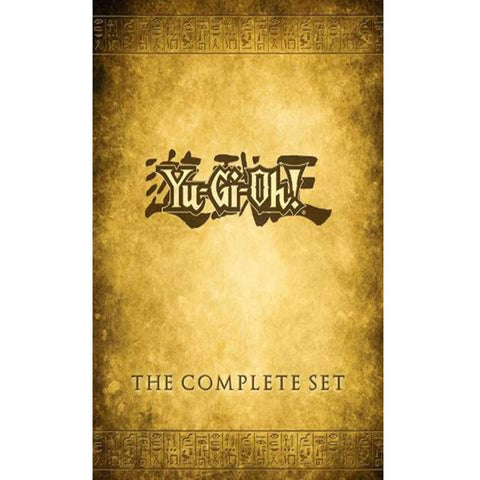 Yu-Gi-Oh Classic DVD Complete Series Box Set
---
 INCLUDES EVERY EPISODE FROM THE ENTIRE SERIES FOR ONLY $97.99!
This set is In Stock at our warehouse in Phoenix, Arizona. 
100% Satisfaction Guaranteed
120 Day Money Back Guarantee
This Set is Brand New and Still Sealed
 This set is Region 1 and will play in the USA and Canada
This set is in regular DVD format
Includes all 224 episodes from all 5 seasons on 32 discs
The Yugioh series follows Yugi Muto and his friends as they learn the incredibly popular Duel Monsters game. Yugi wears around his neck a Millennium Puzzle which causes him to be inhabited by an ancient Pharaoh. The Pharaoh often takes over for Yugi when he plays a Duel Monsters game. Yugi must learn to trust the heart of the cards to defeat the evil Maximillion Pegasus. 
THIS ITEM IS IN STOCK AND READY TO SHIP FROM OUR WAREHOUSE IN PHOENIX, ARIZONA. DON'T MISS YOUR CHANCE TO GET THIS GREAT SET!
THE PHOTO BELOW IS FROM OUR WAREHOUSE AND OF THE ACTUAL ITEM WE WILL BE SHIPPING YOU!
Closed Captions and Details

Audio Language: English

Subtitles: None

Format: Anamorphic Widescreen (No black bars on the top/bottom)

Region Code: Region 1 (Plays in the USA and Canada)

Disc Format: Regular DVD 

Condition: Brand New and Sealed

yu gi oh yu gi oh duel monsters yugioh season 4 yu gi oh sea

son 1 yugioh box yugioh sets yugioh tv show yugioh box sets yugioh on dvd all yugioh series yugioh tv how many seasons of yugioh yugioh original series yugioh complete series yugioh for sale yugioh all seasons yu gi oh tv series yugioh seasons in order yugioh dvd box set yugioh complete series dvd yu gi oh classic complete series yu gi oh classic yugioh how many seasons yugioh the complete set yu gi oh dvd collection yugioh dvd season 1 yugioh season 1 dvd yugioh fuall yugioh series ll seasons 

Haven't watched them.. they're presents for my sons..

finally

My son had been looking for the complete series for awhile, stumbled upon your site and I was able to surprise him with it

Liquid error (layout/theme line 538): Could not find asset snippets/salesbox-common.liquid