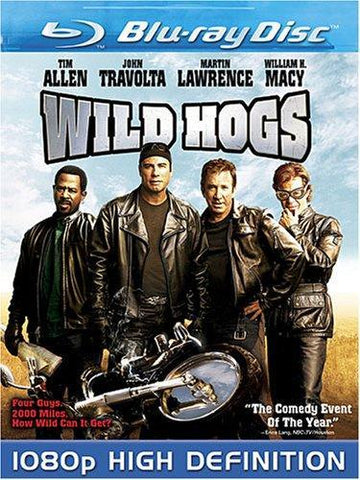 ---
IN STOCK NOW!
~100% Satisfaction Guaranteed!

~120 day Money Back Guarantee

~Every Item is Brand New and still sealed from the store

~All of our products ship direct from our warehouses in the USA!

~Blu-Rays are Region 1 and play in the US and Canada.
Product Description
Join four friends who aim to rev up their ho-hum suburban lives with a cross-country motorcycle adventure. Tim Allen, John Travolta, Martin Lawrence and William H. Macy star in WILD HOGS, the born-to-be-wildly funny comedy that'll get your motor runnin' faster than ever on Blu-ray Disc! Hitch a ride as these hapless weekend-warriors don their leathers, fire up their bikes and throw caution and their cell phones to the wind. But a lot can happen on the road to nowhere, including a run-in with the Del Fuegos, a bad-to-the-bone biker gang. Feel the breeze in your hair -- and the bugs in your teeth! -- as the open highway races by in the eye-popping clarity of high-definition, while engines roar and tires screech in spectacularly souped-up audio. Your whole family will go hog wild over the hilarious misadventures and madcap mayhem that ensue with Blu-ray High Definition.
Amazon.com
A coming-of-age story starring a bunch of fiftysomething stars rather than teenage actors, Wild Hogs is a well-intentioned comedy starring John Travolta (Woody), Tim Allen (Doug), Martin Lawrence (Bobby), and William H. Macy (Dudley) as a group of Midwesterners facing their own versions of mid-life crises. They decide to escape their frazzled personal lives and rejuvenate themselves by taking a road trip on their slick hogs. But their journey is less Easy Rider than it is Three Amigos (plus one). As individual actors, each lead is a formidable star. But throw them all together into one crammed screenplay full of scatological humor and uncomfortable homosexual gags and it doesn't quite work. The actors spend so much time trying to outdo each other on screen that they aren't believable as friends, much less comrades. Walt Becker (National Lampoon's Van Wilder) offers minimal direction on a film that could've used some reining in, especially during scenes between Macy and Marisa Tomei (as a diner owner who inexplicably falls for him). There are promises of some interesting vignettes when Ray Liotta shows up as Jack, the leader of a real motorcycle gang. When Jack threatens to break Dudley's legs, Dudley counters, "I'm a computer programmer! I don't need my legs." Without missing a beat, Jack says, "Fine, we'll break his hands." It's not that the lines are so funny, but they way Liotta delivers them that adds some life to this flailing comedy. Unfortunately, his scenes with the rest of the cast are all too few. --Jae-Ha Kim

Stills from Wild Hogs (click for larger image)

 

 

 

 

 

 

 

 

 

 

 

 

Freewheeling Alternate Ending|High-Octane Deleted Scenes|Outrageous Outtakes|How To Get Your Wife To Let You Buy A Motorcycle|"Bikes, Brawls And Burning Bars: The Making Of WILD HOGS"|Audio Commentary With Director Walt Becker And Writer Brad Copeland

WILD HOGS

DELIVERED ON TIME AND IN GOOD SHAPE. I WOULD ORDER AGAIN FROM BLAZEDVD

Liquid error (layout/theme line 538): Could not find asset snippets/salesbox-common.liquid