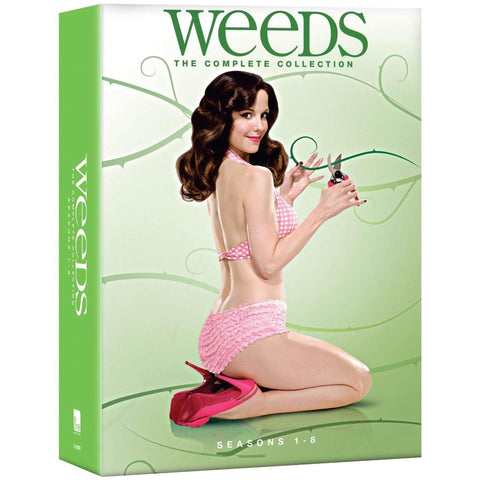 Weeds DVD Complete Series Box Set
---
 INCLUDES EVERY EPISODE FROM THE ENTIRE SERIES FOR ONLY $57.99!
This set is In Stock at our warehouse in Phoenix, Arizona. 
100% Satisfaction Guaranteed
120 Day Money Back Guarantee
This Set is Brand New and Still Sealed
 This set is Region 1 and will play in the USA and Canada
This set is in regular DVD format
Includes all 102 episodes from all 8 seasons on 22 discs
The Weeds TV series aired on Showtime from 2005 until 2012. The show follows Nancy Botwin, a widowed mother of two. After her husband dies of a heart attack,  she begins selling marijuana to support her family. As the seasons progress, Nancy becomes more and more entangled in her illegal drug trade. 
THIS ITEM IS IN STOCK AND READY TO SHIP FROM OUR WAREHOUSE IN PHOENIX, ARIZONA. DON'T MISS YOUR CHANCE TO GET THIS GREAT SET!
THE PHOTO BELOW IS FROM OUR WAREHOUSE AND OF THE ACTUAL ITEM WE WILL BE SHIPPING YOU!
Closed Captions and Details

Audio Language: English, 

Subtitles: English, Spanish

Format: Anamorphic Widescreen (No Black bars on the top or bottom)

Region Code: Region 1 (Plays in the USA and Canada)

Disc Format: Regular DVD 

Condition: Brand New and Sealed

weeds on dvd weeds dvd box set 1-8 weeds dvd box set weeds dvd set weeds all seasons dvd buy weeds dvd box set weeds dvd series weeds complete series dvd box set weeds dvd season 1 weeds seasons 1-8 dvd box set weeds complete collection dvd weeds dvd collection weeds dvd full weeds full series dvd weeds complete series on dvd weeds dvd box weeds serie tv dvd 

Weeds DVD Complete Series Box Set

I GAVE YOU GUYS A FOUR STAR EVEN THOU ONE OF THE CD'S DID NOT WORK IN THE COMPLETE SET. THANKS

Weeds dvd review

Only 1 disc was unwatchable for them to beat Walmart and Amazon price very satisfied

Placing my order was easy. Received the product in a timely manner as promised. Was delivered in perfect condition. I am so pleased to have the entire set. Thank you! YOU rock!

Liquid error (layout/theme line 538): Could not find asset snippets/salesbox-common.liquid