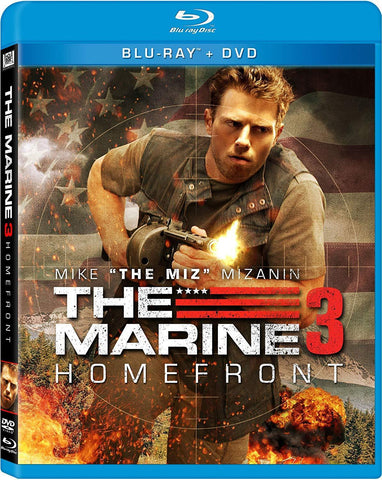 The Marine 3: Homefront on Blu-Ray
---
IN STOCK NOW!
~100% Satisfaction Guaranteed!

~120 day Money Back Guarantee

~Every Item is Brand New and still sealed from the store

~All of our products ship direct from our warehouses in the USA!

~Blu-Rays are Region 1 and play in the US and Canada.
Product Description
WWE superstar Mike "The Miz" Mizanin delivers a knock-out performance in the most explosive, action-packed Marine adventure yet. After returning to his hometown on leave, Sgt. Jake Carter learns that his sister has been abducted by a band of violent extremists. To save her, Carter launches a daring one-man assault on their base of operations...only to discover the group's ruthless leader is plotting a deadly terrorist strike. With time running out, Carter realizes he's the only man who can stop the impending massacre -- but this American hero may have to make the ultimate sacrifice to save thousands of innocent lives.
Amazon.com
The Marine 3: Homefront opens with an unapologetic commercial for the Marines before it settles into the familiar rhythms of a formulaic action flick. Marine sergeant Jake Carter (professional wrestler Mike "the Miz" Mizanin) comes back to his small-town home in Washington state, only to rub his independent sisters the wrong way by acting paternal and disapproving of their boyfriends. But when trouble appears in the form of a domestic terrorist (played by the icy blue eyes of Neal McDonough, Desperate Housewives), everyone's glad to have Jake around… and butt kicking ensues. The Marine 3 (which bears no connection to the previous Marine movies other than that the hero is a Marine) is rote stuff, pedestrian but competent, though given a little twist with the villain's topical grudge against the banking system. McDonough lends a touch of gravitas to the bad guy, and Mizanin is likable enough--this is action-movie comfort food, served up with no pretensions, plenty of gunfire, and just a garnish of upraised patriotic chins. --Bret Fetzer

Liquid error (layout/theme line 538): Could not find asset snippets/salesbox-common.liquid