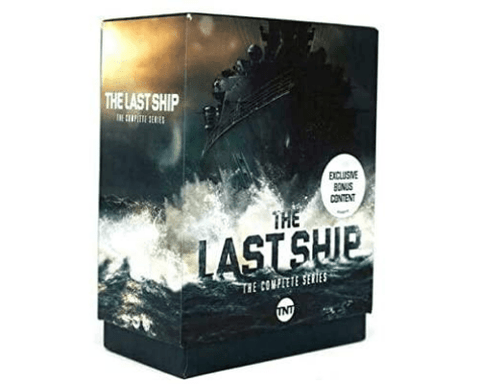 The Last Ship TV Series Complete DVD Box Set
---
 INCLUDES EVERY EPISODE FROM ALL 5 SEASONS FOR ONLY $57.99!
This set is In Stock at our warehouse in Phoenix, Arizona. 
100% Satisfaction Guaranteed
120 Day Money Back Guarantee
This Set is Brand New and Still Sealed
 This set is Region 1 and will play in the USA and Canada
This set is in regular DVD format
Includes all 58 episodes from all 5 seasons on 15 discs
The Last Ship began airing on TNT in 2014. The show follows a ship, the USS Nathan James, as a viral pandemic wipes out 80% of the world's population. The 218 crew members aboard must find a cure, stop the virus, and save the world... all from the confines of their ship. 
THIS ITEM IS IN STOCK AND READY TO SHIP FROM OUR WAREHOUSE IN PHOENIX, ARIZONA. DON'T MISS YOUR CHANCE TO GET THIS GREAT SET!
THE PHOTO BELOW IS FROM OUR WAREHOUSE AND OF THE ACTUAL ITEM WE WILL BE SHIPPING YOU!
Closed Captions and Details

Audio Language: English, Portuguese 

Subtitles: English, French, Portuguese, Spanish

Format: Anamorphic Widescreen (No black bars on the top/bottom)

Region Code: Region 1 (Plays in the USA and Canada)

Disc Format: Regular DVD 

Condition: Brand New and Sealed

the last ship season 3 the last ship imdb the last ship season 1 the last ship tv show the last ship season 2 the last ship season the last ship tv series the last ship series the ship tv show the last ship tv the last ship show lost ship tv show the last ship on dvd how many seasons of last ship the lost ship tv show the last ship season 2 dvd the last ship season 2 on dvd 

The Last Ship Complete Box Set

Very timely series during our pandemic. So glad to be able to watch the entire series again.
Great Service, fast delivery, good prices.
You can't go wrong ordering from Blaze.

The Last Ship. Great for watching during a pandemic.

Great service and very reasonable price. Thank you.

The Last Ship DVD Seasons 1-5 Set

The Last Ship

Awesome DVDs, great place to purchase movies

Perfect service

Love blaze DVDs.
Prompt service.
Always willing to help.
Thanks a lot.

Liquid error (layout/theme line 538): Could not find asset snippets/salesbox-common.liquid