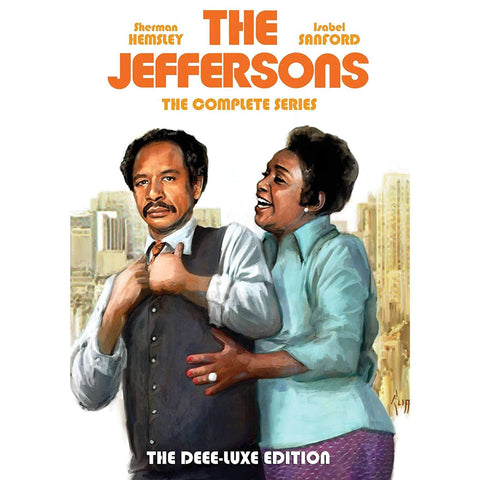 The Jeffersons DVD Complete Series Box Set
---
 INCLUDES EVERY EPISODE FROM THE ENTIRE SERIES FOR ONLY $87.99!
This set is In Stock at our warehouse in Phoenix, Arizona. 
100% Satisfaction Guaranteed
120 Day Money Back Guarantee
This Set is Brand New and Still Sealed
 This set is Region 1 and will play in the USA and Canada
This set is in regular DVD format
Includes all 253 episodes from all 11 seasons on 33 discs
The Jeffersons TV series aired on CBS from 1975 to 1985. The show was spun off from All in the Family when the Jeffersons moved away from the Bunkers. The show follows the Jeffersons as they make new friends, build their dry cleaning empire, and have plenty of laughs along the way. A few of the common antics of the show involve George slamming the door in Bentley's face while they are in the middle of a conversation as well as George walking on Bentley's back. 
THIS ITEM IS IN STOCK AND READY TO SHIP FROM OUR WAREHOUSE IN PHOENIX, ARIZONA. DON'T MISS YOUR CHANCE FOR THIS GREAT SET!
THE PHOTO BELOW IS FROM OUR WAREHOUSE AND OF THE ACTUAL ITEM WE WILL BE SHIPPING YOU!
Closed Captions and Details

Audio Language: English

Subtitles: English

Format: Anamorphic Widescreen (No Black bars on the top or bottom)

Region Code: Region 1 (Plays in the USA and Canada)

Disc Format: Regular DVD 

Condition: Brand New and Sealed

george jefferson the jeffersons tv show lionel jefferson louise jefferson jefferson show meet the jeffersons george jefferson show jefferson tv the jeffersons complete series the jeffersons tv series george jefferson tv show the jeffersons videos the jefferson series how many seasons of the jeffersons jeffersons complete series the jeffersons complete series dvd the jeffersons seasons the jeffersons set the jeffersons dvd collection the jeffersons complete dvd collection jeffersons dvd complete series jeffersons on dvd the jeffersons dvd box set 

Just what I wanted

My item was packaged so well and I received it just in time for respite from work.

All that I have ordered. (7)

The dvd's are great .Enjoying them .My only complaint is that most of the dvd holders are broken and the dvd's slide around.I just hope they dont get scratched.....Other than that I will continue to search your library of dvd's and will be purchasing more sets.

The Jeffersons

The dvds play and I enjoy watching this show.

Service Excellent

Service was Excellent !!

This was A gift!

Liquid error (layout/theme line 538): Could not find asset snippets/salesbox-common.liquid