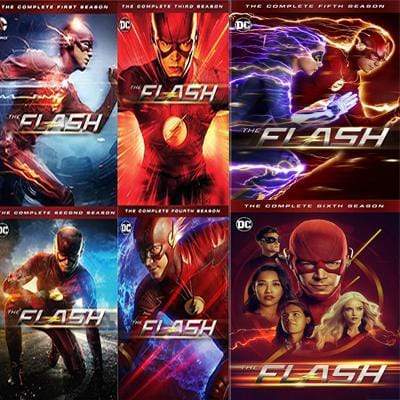 The Flash TV Series Seasons 1-6 DVD Set
---
 INCLUDES EVERY EPISODE FROM ALL 6 SEASONS FOR ONLY $67.99!
This set is In Stock at our warehouse in Phoenix, Arizona. 
100% Satisfaction Guaranteed
120 Day Money Back Guarantee
This Set is Brand New and Still Sealed
 This set is Region 1 and will play in the USA and Canada
This set is in regular DVD format
Includes all 135 episodes from all 6 seasons on 31 discs
The Flash began airing on the CW in 2014. The show follows the life of Barry Allen aka The Flash. He is a costumed crime fighter who has gained the ability of superhuman speed. Barry must use his newfound abilities to fight criminals and other super humans who choose to use their powers for evil. Only a few close friends know what happened to Barry... and he wants to keep it that way. 
THIS ITEM IS IN STOCK AND READY TO SHIP FROM OUR WAREHOUSE IN PHOENIX, ARIZONA. DON'T MISS YOUR CHANCE FOR THIS GREAT SET!
THE PHOTO BELOW IS FROM OUR WAREHOUSE AND OF THE ACTUAL ITEM WE WILL BE SHIPPING YOU!
Closed Captions and Details

Audio Language: English, Spanish, Italian

Subtitles: English, Spanish, Italian, Dutch

Format: Anamorphic Widescreen (No Black bars on the top or bottom)

Region Code: Region 1 (Plays in the USA and Canada)

Disc Format: Regular DVD 

Condition: Brand New and Sealed

the flash cw flash tv show the flash season 2 the flash season 3 the flash season 1 flash tv flash tv series the flash season flash show flash series flash 2017 the flash 2014 wb flash the flash season one the flash cbs seasons of the flash flash all seasons the flash 1 the flash dvd season 2 the flash set the flash 2014 tv series the flash dvd season 1 the flash complete series the flash serie flash new series the flash dvd season 3 flash 2015 ctv the flash 

The Flash DVD Seasons 1-4 Set

Flash

Fast delivery. Good quality. Only wish now I took the offer on the fifth season.

Flash Series - Seasons 1-4

I would definitely order from Blaze again! Quick turn around in delivery.

The flash

Speedy delivery! And a great price. Thanks.

Just Got these in...

They seem like the real deal! Can't wait to sit down and watch them.

Liquid error (layout/theme line 538): Could not find asset snippets/salesbox-common.liquid