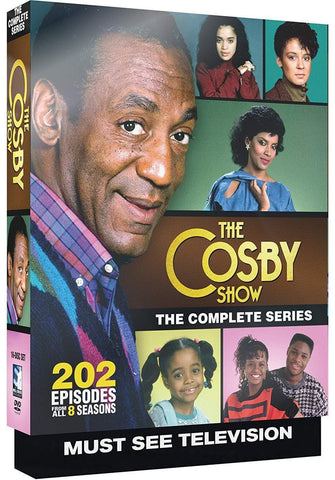 The Cosby Show Complete Series on DVD
---
Get the Entire Box Set for only $34.99
This set is In Stock at our warehouse in Phoenix, Arizona. 

100% Satisfaction Guaranteed

120 Day Money Back Guarantee

This Box Set is Brand New and Still Sealed

 This set is Region 1 and will play in the USA and Canada

This set is in regular DVD format
For eight seasons, America tuned in every Thursday night to watch the nurturing tales and hilarious hijinks of the Huxtable family. The parents, doctor Heathcliff and attorney Clair, juggled busy careers along with raising five children, all to the delight of the viewers of this top-rated sitcom. Fans were entertained by humorous stories but also watched episodes with serious subjects such as dyslexia, civil rights and teenage pregnancy. This critically-acclaimed Emmy, Golden Globe and Peabody award-winning show was credited with reviving the television sitcom.Collected together in one DVD set, you can enjoy the charm and wit found in all 199 episodes of The Cosby Show. This television program is considered one of the best examples of a situation comedy that you will enjoy for many years to come. Sit back, relax and watch the Huxtables.
THIS ITEM IS IN STOCK AND READY TO SHIP FROM OUR WAREHOUSE IN PHOENIX, ARIZONA. DON'T MISS YOUR CHANCE FOR THIS GREAT SET!
THE PHOTO BELOW IS FROM OUR WAREHOUSE AND OF THE ACTUAL ITEM WE WILL BE SHIPPING YOU!
Closed Captions and Details

Audio Language: English

Subtitles: None 

Format: Full Screen (black bars on both sides) 

Region Code: Region 1 (Plays in the USA and Canada)

Disc Format: Regular DVD 

Condition: Brand New and Sealed

 

Review of Cosby by Merv

The work by Blaze DVDs was very good but the quality of the recording on these DVDs is not quite as good as most.

Great purchase

I'm a big fan of the Cosby Show. I'm so happy I found this set and I'm happy with my purchase. The DVD's show great!!! And the cost was the cheapest I've found. Thank you Blaze!!

The Cosby Show

Enjoying my dvds. Great memories of my childhood.

Liquid error (layout/theme line 538): Could not find asset snippets/salesbox-common.liquid