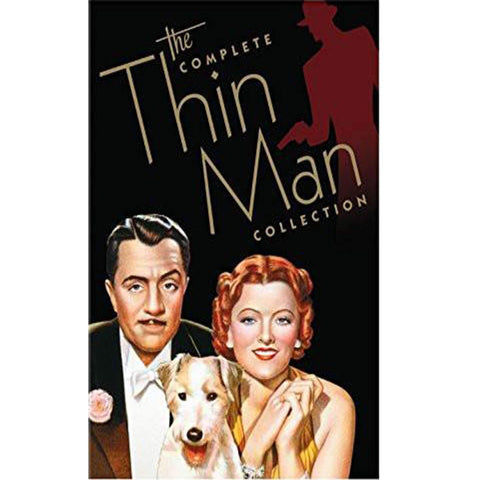 The Complete Thin Man DVD Collection Box Set
---
IN STOCK TODAY!
~100% Satisfaction Guaranteed!
~120 day Money Back Guarantee
~Every Item is Brand New and still sealed. 
~All of our products ship direct from our warehouses in the USA
~DVDs are Region 1 and play in the US and Canada.
~Includes 7 movies on 7 discs. 
The sparkling series featured the irresistible William Powell and Myrna Loy chemistry as husband and wife sleuths who solved murders with the aid of their wire-haired terrier, Asta. Set in the glamorous world of 1930s upper-class Manhattan, The Thin Man and its sequels established the standard for witty comedy, clever dialogue and urbane one upmanship.
The 7-Disc set includes:
THE THIN MAN
AFTER THE THIN MAN
ANOTHER THIN MAN
SHADOW OF THE THIN MAN
SONG OF THE THIN MAN
THE THIN MAN GOES HOME
ALIAS NICK & NORA 
*Please Note: the exterior corners of some of the cardboard sleeves may be become creased or discolored due to age and shipping. 

Liquid error (layout/theme line 538): Could not find asset snippets/salesbox-common.liquid