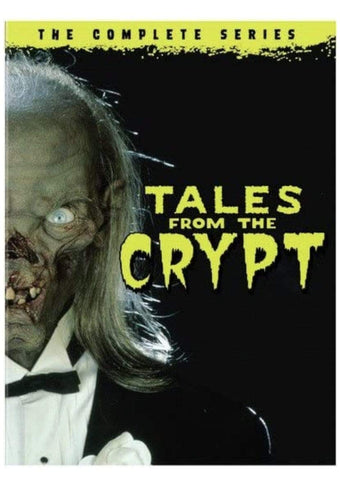 Tales from the Crypt: The Complete Seasons 1-7 (DVD)
---
 INCLUDES EVERY EPISODE FROM THE ENTIRE SERIES FOR ONLY $77.99!
This set is In Stock at our warehouse in Phoenix, Arizona. 
100% Satisfaction Guaranteed
120 Day Money Back Guarantee
This Set is Brand New and Still Sealed
 This set is Region 1 and will play in the USA and Canada
This set is in regular DVD format
Includes all 93 episodes from all 7 seasons on 20 discs
HBO's Tales from the Crypt ran from 1989 until 1996. The show is based on the 1950s EC comic series of the same name. Since it aired on HBO rather than a regular channel the show had the freedom to include whatever content it wanted in the show. The show had a lot of content that was unheard of before on a TV show including  graphic violence, profanity, sexual activity, and even nudity. The show is basically half hour mini-movies similar to the Twilight Zone style. The show always begins and ends with the Crypt keeper leading into the story and then summarizing at the end. 
THIS ITEM IS IN STOCK AND READY TO SHIP FROM OUR WAREHOUSE IN PHOENIX, ARIZONA. DON'T MISS YOUR CHANCE TO GET THIS GREAT SET!
Closed Captions and Details

Audio Language: English

Subtitles: English

Format: Anamorphic Widescreen (No Black Bars on the Top or Bottom)

Region Code: Region 1 (Plays in the USA and Canada)

Disc Format: Regular DVD 

Condition: Brand New and Sealed

crypt keeper crypt tv tales from the cryptkeeper tftc crypt creeper crip keeper tales from the crypt crypt keeper tales from the crypt reboot tales from the crypt complete series tales from the crypt tnt tails of the crypt tales from the crypt box set tales from the crypt hbo tales from the crypt seasons tales from the creep tales of the cript the crip keeper tales from the crypt series tales from the crypt tv show tales from the crypt movie 1989 tales from the crypt collection completed stories from the crypt how many seasons of tales from the crypt tales from the crypt new series tales from the crypt videos 

Liquid error (layout/theme line 538): Could not find asset snippets/salesbox-common.liquid