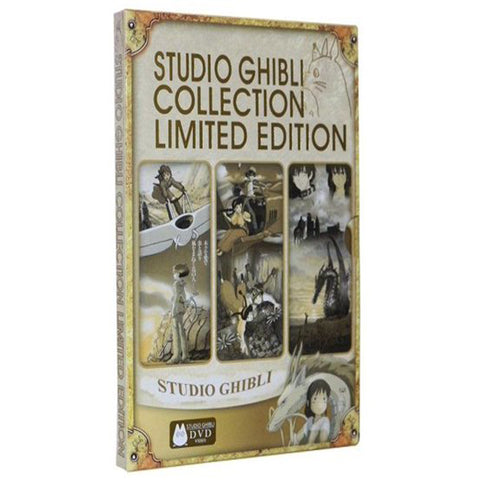 Studio Ghibli Limited Edition Collection 18 Movies(DVD)
---
This Collection Includes all 18 Movies For
 Only $69.99!
This set is In Stock at our warehouse in Phoenix, Arizona. 
100% Satisfaction Guaranteed
90 Day Money Back Guarantee
Movies are Brand New and Still Sealed
DVDs are region 1 and play in the USA and Canada
Includes all 18 movies in regular DVD format
This item is In Stock and ready to ship from our warehouse in Phoenix, Arizona. Don't miss your chance for this great set!
Included in this Collection is all of the following movies! 
Disc 1. Laputa Grave of the Fireflies Whisper of the Heart
Disc 2. Princess Mononoke Totoro Nausicaa
Disc 3. Kiki's Delivery Service Porco Rosso The Wind Rises
Disc 4. The Cat Returns Howl's Moving Castle Tales From Earthsea
Disc 5. Spirited Away Ponyo My Neighbors the Yamadas
Disc 6. Pom Poko Arriety Poppy Hill.
THE PHOTO BELOW IS FROM OUR WAREHOUSE AND OF THE ACTUAL ITEM WE WILL BE SHIPPING YOU!
Closed Captions and Details

Audio Language: English

Subtitles: English

Format: DVD

Region Code: Region 1 (Plays in the USA and Canada)

Disc Format: Regular DVD 

Condition: Brand New and Sealed

I can't review it… because I still haven't received it…

Wow!

It is hard to believe that you can get all these movies for such a low price!
I think the secret is that they don't put the complete name of the movies, just one "code word" i.e. "Arietty" instead of "the Secret World of Arietty." You have to know what you're looking for to understand what movies are in the box.
What's neat is the movies offer Japanese sound with English subtitles AND English sound (with English subtitles.)
I am very impressed and Blaze DVDs is my go-to for all movie boxes from now on!

Worth It

This arrived quickly, without any damage, all packaging intact. Movies play with good quality. The English subtitles don't match the English dub-over. As if the translation was done at different times. This causes no problems.
Worth buying

Liquid error (layout/theme line 538): Could not find asset snippets/salesbox-common.liquid