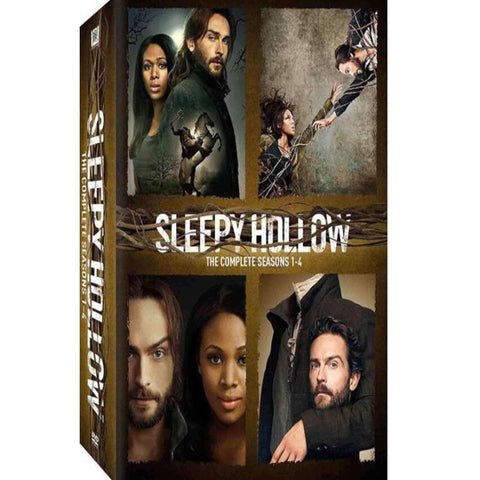 Sleepy Hollow DVD Complete Series Box Set
---
 INCLUDES EVERY EPISODE FROM THE ENTIRE SERIES FOR ONLY $47.99!
This set is In Stock at our warehouse in Phoenix, Arizona. 
100% Satisfaction Guaranteed
120 Day Money Back Guarantee
This Set is Brand New and Still Sealed
 This set is Region 1 and will play in the USA and Canada
This set is in regular DVD format
Includes all 62 episodes from all 4 seasons on 18 discs
The Sleepy Hollow TV series began airing on Fox in 2013. The show aired for a total of 4 seasons before being cancelled in 2017. The series is a modern retelling of the classic 1820's story "The Legend of Sleepy Hollow". The show feature Ichabod Crane who wakes up in the present day in the city of Sleepy Hollow. Ichabod must stop the Headless Horseman from getting his head back. 
THIS ITEM IS IN STOCK AND READY TO SHIP FROM OUR WAREHOUSE IN PHOENIX, ARIZONA. DON'T MISS YOUR CHANCE TO GET THIS GREAT SET!
THE PHOTO BELOW IS FROM OUR WAREHOUSE AND OF THE ACTUAL ITEM WE WILL BE SHIPPING YOU!
Closed Captions and Details

Audio Language: English, French, Spanish, Portuguese

Subtitles: English, French, Spanish, Portuguese

Format: Anamorphic Widescreen (No Black bars on the top or bottom)

Region Code: Region 1 (Plays in the USA and Canada)

Disc Format: Regular DVD 

Condition: Brand New and Sealed

 sleepy hallow sleepy hollow tv show sleepy hollow fox sleepy hollow show sleepy hollow tv series sleepy hollow renewed sleepy hollow series sleepy hollow season 1 sleepy hollow series sleepy hollow tv spooky hollow was sleepy hollow cancelled sleepy hollow season the sleepy hollow how many seasons of sleepy hollow sleepy hollow dvd sleepy hallows 

Sleepy Hollow DVD Complete Series Box Set

Sleeping Hollow complete series

Love it! I am so happy with the quick ship and quality customer service. Thanks again!

Love Sleepy Hollow

So happy to get my hands on the Complete DVD series Sleepy Hollow. Arrived in great condition from Blaze dvd. So sad the show ended so soon but I feel if Nicole Beharie's character wasn't killed of from the show in the third season, the show would have lasted at least a few more seasons before it ended. Well regardless I still love the show and I am glad to own the collection.

Liquid error (layout/theme line 538): Could not find asset snippets/salesbox-common.liquid