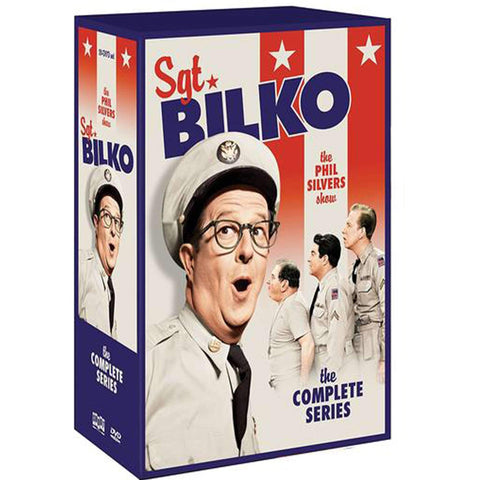 Sgt. Bilko - The Phil Silvers Show DVD Complete Series Box Set
---
 INCLUDES EVERY EPISODE FROM THE ENTIRE SERIES FOR ONLY $47.99
This set is In Stock at our warehouse in Phoenix, Arizona. 
100% Satisfaction Guaranteed
120 Day Money Back Guarantee
This Box Set is Brand New and Still Sealed
 This set is Region 1 and will play in the USA and Canada
This set is in regular DVD format
Includes all 143 episodes from all 4 seasons on 20 discs
Sgt. Bilko/ The Phil Silvers Show aired from 1955 until 1959 on CBS. The show won 3 consecutive Emmy Awards for Best Comedy Series. The series follows Sgt. Ernest G. Bilko who is in charge of the Fort Baxter motor pool. Sgt. Bilko always seems to be working on an angle or scheme to try and get rich quick or get out of work quicker. These schemes always leave Colonel Hall pulling his hair out and the viewer in stitches. This complete series box set is a must have for any classic television comedy lover!
THIS ITEM IS IN STOCK AND READY TO SHIP FROM OUR WAREHOUSE IN PHOENIX, ARIZONA. DON'T MISS YOUR CHANCE TO GET THIS GREAT SET!
THE PHOTO BELOW IS FROM OUR WAREHOUSE AND OF THE ACTUAL ITEM WE WILL BE SHIPPING YOU!
Closed Captions and Details

Audio Language: English

Subtitles: English

Format: Anamorphic Widescreen (No black bars on the top/bottom)

Region Code: Region 1 (Plays in the USA and Canada)

Disc Format: Regular DVD 

Condition: Brand New and Sealed

Color: Black & White

sergeant bilko phil silvers show the phil silvers show sargent bilko sgt bilko tv show the phil show phil silvers sgt bilko bilco classic series phil silvers bilko sgt bilko tv series sergeant bilko tv show phil silvers sergeant bilko sergeant bilko show sgt bilko tv st bilko sergent bilko phil silvers show dvd sgt bilko dvd complete sgt bilko complete series sergeant bilko dvd

Sgt. Bilko

Quality product. Fast free delivery. Very satisfied. . Previous reviewer Robert Danna said in his review some of the DVDS do not play the whole episodes. If that's the case that is very disappointing .. I know the show pretty well and will review again if he is correct.

The Phil Silvers Show

Quality DVD's.. Great product …Fast delivery

Sgt. Bilko

I received my order like I was promised, but some of the DVDS do not play the whole episodes. Therefore, I'm very disappointed in my purchase.

We apologize for the issue with your boxset. Please contact us and we would be happy to assist you in fixing your issue.

The Phil Silver's Show / Sgt Bilko

The old days when comedy was funny! Set arrived in excellent condition and was quickly shipped.
.Thank you, Blaze DVDs,

Liquid error (layout/theme line 538): Could not find asset snippets/salesbox-common.liquid