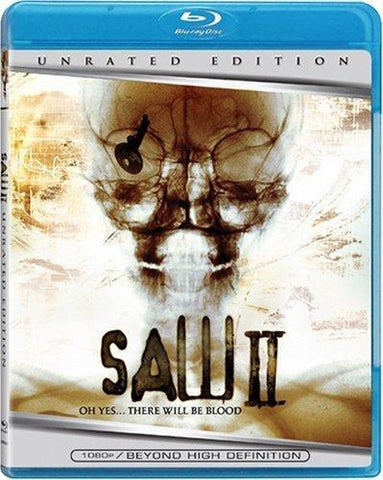 ---
IN STOCK NOW!
~100% Satisfaction Guaranteed!

~120 day Money Back Guarantee

~Every Item is Brand New and still sealed from the store

~All of our products ship direct from our warehouses in the USA!

~Blu-Rays are Region 1 and play in the US and Canada.
Product Description
While investigating the bloody aftermath of a grizzly murder, Detective Eric Mason (Donnie Wahlberg) has the feeling that it is the work of Jigsaw, the notorious killer who disappeared leaving a trail of bodies -- and parts -- behind. And Mason is right. Jigsaw is at work again. But instead of two people locked in a room with only one unthinkable way out, there are eight. Eight strangers -- unaware of their connection to each other -- forced to play out a game that challenges their wits and puts their lives in jeopardy.
Amazon.com
Saw II brings back many features of the original Saw: elaborate sadistic scenarios designed to "test" the victims' will to live; Tobin Bell as the Machiavellian (yet doomed) serial killer Jigsaw; Shawnee Smith as Amanda, a survivor of one of Jigsaw's "games", forced to play again; Dina Meyer (Starship Troopers), whose role as a detective is considerably expanded; and the stunningly godawful dialogue of screenwriter Leigh Whannel. The set-up this time is even more preposterous than before, as a rough-and-tumble cop named Eric (Donnie Whalberg, Band of Brothers) watches, on video monitors, his son trapped in a house filled with nerve gas and a handful of other victims, all of whom are mysteriously connected. Eric has captured Jigsaw, but the implacable killer refuses to reveal where the cop's son is being held... unless Eric will play by Jigsaw's rules. Fans of Saw will love Saw II, as the tortures are more gruesome than before; viewers who found Saw either detestable or laughable won't like Saw II either, as the characters rarely behave like actual people (even when a moment's explanation would solve a conflict, no one bothers to communicate, even though their lives are on the line). It's a festival of body fluids, agonized grimaces, and shrieks of pain--and if that's your thing, this is your movie. --Bret Fetzer

None.

Liquid error (layout/theme line 538): Could not find asset snippets/salesbox-common.liquid