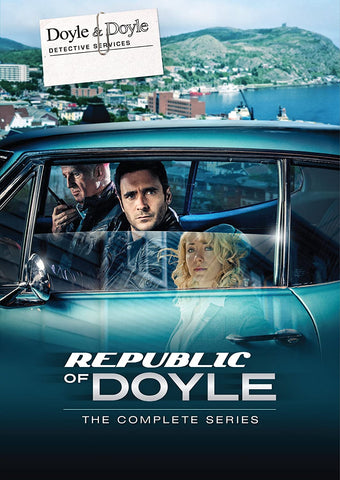 Republic of Doyle Complete Series on DVD
---
 Includes all 6 seasons for only $67.99!
This set is In Stock at our warehouse in Phoenix, Arizona. 
100% Satisfaction Guaranteed
120 Day Money Back Guarantee
This Box Set is Brand New and Still Sealed
This set is Region 1 and will play in the USA and Canada
This set is in regular DVD format
Jake is a 30-year-old man living with his father Malachy because his ex-wife Nikki kicked him out. A former cop, he works as a private investigator with his father, Mal, and his father's wife, Rose. He is over-protective of his 16-year-old niece, Republic of Doyle The Complete Series DVD Tinny. He is the second son and youngest child of Mal Doyle and his late wife Emily Ann. He drives a 1968 Pontiac GTO and wears a black leather jacket, both of which figure prominently and iconically throughout the series. After years of pursuit, in Season Four he and Leslie Bennett become a couple. He also discovers in Season Five that he has a sixteen-year-old daughter, Sloan. Near the end of the series Sloan reveals to Jake that it was all a scam and she forged the DNA test and isn't actually Jakes daughter. In the series finale Leslie reveals to Jake that she is pregnant and after being shot by Inspector Pickard and she is in the hospital it is revealed to Jake that she is going to have twins. 
THIS ITEM IS IN STOCK AND READY TO SHIP FROM OUR WAREHOUSE IN PHOENIX, ARIZONA. DON'T MISS YOUR CHANCE FOR THIS GREAT SET!
THE PHOTO BELOW IS FROM OUR WAREHOUSE AND OF THE ACTUAL ITEM WE WILL BE SHIPPING YOU!
Closed Captions and Details

Audio Language: English

Subtitles: None

Format: Anamorphic Widescreen (No black bars on the top/bottom)

Region Code: Region 1 (This means this item plays in the USA and Canada)

Disc Format: Regular DVD 

Condition: Brand New and Sealed

Very reliable seller

Great product, rapid delivery, I've bought from blaze a couple times on Amazon.
Service, product, delivery always constantly above average

Liquid error (layout/theme line 538): Could not find asset snippets/salesbox-common.liquid