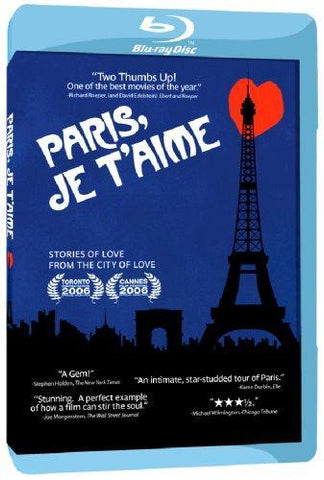 Paris, Je t'Aime on Blu-Ray
---
IN STOCK NOW!
~100% Satisfaction Guaranteed!

~120 day Money Back Guarantee

~Every Item is Brand New and still sealed from the store

~All of our products ship direct from our warehouses in the USA!

~Blu-Rays are Region 1 and play in the US and Canada.
Product Description
In PARIS, JE T?AIME, celebrated directors from around the world, including the Coen Brothers, Gus Van Sant, Gurinder Chadha, Wes Craven, Walter Salles, Alexander Payne and Olivier Assayas, have come together to portray Paris in a way never before imagined. Made by a team of contributors as cosmopolitan as the city itself, this portrait of the city is as diverse as its creators' backgrounds and nationalities. With each director telling the story of an unusual encounter in one of the city's neighborhoods, the vignettes go beyond the 'postcard' view of Paris to portray aspects of the city rarely seen on the big screen.An outstanding host of actors including Natalie Portman, Maggie Gyllenhaal, Fanny Ardant, Elijah Wood, Nick Nolte, Bob Hoskins, Juliette Binoche, Emily Mortimer, Catalina Sandino Moreno, Rufus Sewell, Barbet Schroeder, Ludivine Sagnier, Gena Rowlands, Miranda Richardson and Steve Buscemi, grace these vignettes with their larger-than-life personas. Their performances add even deeper resonance to this affectionate love letter to one of the world's most transcendent cities.
Amazon.com
Even with the impressive talent involved, Paris, je t'aime could've ended up like a fallen soufflé. Though all 18 films aren't equally successful, they hit the mark more often than not. Romantics anticipating happy love stories set amongst the City of Lights may be disappointed to find that many are quite sad and that some parts of Paris are less inviting than others (each takes place in a different district). Further, the shorts aren't all en Français, since the actors and directors hail from around the world, but their outsider perspectives lend the project depth. The strongest entries are provided by Gurinder Chadha (Quais De Seine), Gus Van Sant (Le Marais), Oliver Schmitz (Place des Fêtes), and Alexander Payne (14ème Arrondissement), but all find interesting ways to explore cultural misunderstandings. In Joel and Ethan Coen's tragic-comic Tuileries, tourist Steve Buscemi angers a couple simply by making eye contact. Like Miranda Richardson in Isabelle Coixet's heartbreaking Bastille, he does all his acting with his expressive face. And while Maggie Gyllenhaal speaks the language adroitly in Olivier Assayas's intriguing Quartier des Enfants Rouges, Nick Nolte (purposefully) mangles it in Alfonso Cuarón's surprisingly weak Parc Monceau. The anthology ends with Payne's audio-postcard, in which Margo Martindale's postal carrier narrates her vacation in awkward, but endearing French. Instead of another person, she falls in love with Paris, simply for allowing her to be herself. It's the perfect finish to a poignant repast, like strawberries dipped in chocolate--sweet, but not cloyingly so. --Kathleen C. Fennessy

None.

Liquid error (layout/theme line 538): Could not find asset snippets/salesbox-common.liquid