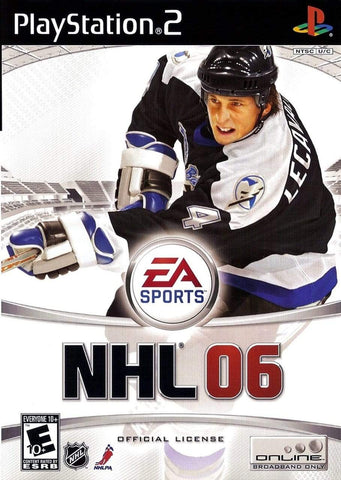 ---
IN STOCK NOW!
~100% Satisfaction Guaranteed!
~120 day Money Back Guarantee
~All of our products ship direct from our warehouses in the USA!
Note: This Item is in used condition. This Item is in the original case with artwork as pictured but may be missing the instruction booklet and may have stickers on the exterior case. The video game disc is in like-new condition.
Product description
NHL 2006 gives you a chance to hit the ice & take complete control of every scoring opportunity. Express your shooting style with the new Sniper Stick - fire off pinpointed slap shots or execute sweet backhanders in a precise location with the flick of the stick. All-new deking control adds to your arsenal by letting you skate arond, between, and through opponents while maintaining full puck control. Shoot and score like never before with NHL 2006.
From the Manufacturer
Take complete control of every scoring opportunity and become an offensive superstar with NHL 06. With the new EA Sports Skill Stick, express your shooting style and light the lamp with highlight reel moves of an All-Star. Using classic deke controls to skate past, around, or through defenders, and then rip the back of the net with pin-point accuracy. Get offensive and score like never before with NHL 06!
Features:
All-New EA Sports Skill Stick: Create highlight reel goals by executing the signature moves of an NHL All-Star. Drop the puck between your skates, fake out goal tenders with a between-the-legs shot, or puck the puck in the back of the net with a bat-in.
EA Sports R.P.M. Physics: new Realistic Puck Momentum (R.P.M.) means the puck is dangerous--hard shots can injure defensemen, shake up goalies in the crease, ripple the twine, or knock water bottles off the net to add insult to injury.
Classic Deking Control: Movement on the ice is more intuitive than ever as you skate and deke to move past opponents and make goalies look foolish. Own the ice like in the glory days of the EA Sports classic NHL 94!
All-New Momentum Skating: Feel what it's like to be on the ice. A player's speed and size now affects his momentum and turning radius. Generate momentum to initiate speed bursts then fly past opponents, leaving real-time ice trails in your wake.
Creation Zone: Create a player who looks like you and get into the game with the new analog facial sculpting controls. Add black eyes, broken noses, and scars to put fear in the eyes of your opponents. Create an NHL team in your hometown and build a dynasty, or edit any player in the league with an all-new player editor.
Liquid error (layout/theme line 538): Could not find asset snippets/salesbox-common.liquid