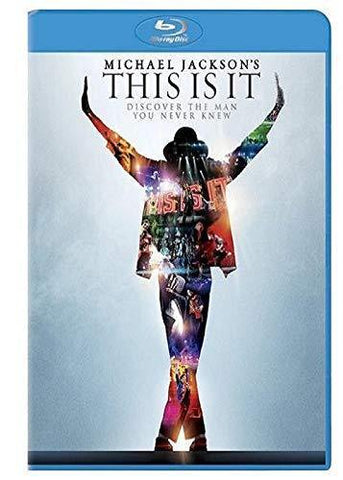 Michael Jackson: This Is It on Blu-Ray
---
IN STOCK NOW!
~100% Satisfaction Guaranteed!

~120 day Money Back Guarantee

~Every Item is Brand New and still sealed from the store

~All of our products ship direct from our warehouses in the USA!

~Blu-Rays are Region 1 and play in the US and Canada.
Product Description
Michael Jackson's THIS IS IT is a rare, behind-the-scenes look at the performer as he developed, created and rehearsed for his sold-out concerts at London's O2 Arena. Chronicling the months from April through June 2009, this film was produced with the full support of the Estate of Michael Jackson and drawn from more than one hundred hours of behind-the-scenes footage featuring Jackson rehearsing a number of his songs for the show. In raw and candid detail, Michael Jackson's THIS IS IT captures the singer, dancer, filmmaker, architect, creative genius and great artist at work as he creates and perfects his planned final London shows.
Amazon.com
It's hard not to watch This Is It without feeling a mixture of sorrow and elation. When he passed away in the summer of 2009, Michael Jackson was in the midst of rehearsals for his final tour, an ambitious 50-date engagement. In editing 120 hours of rehearsal footage together, Jackson producer Kenny Ortega proves that it would've been an event for the ages. Michael performs material that spans his career, from a Motown medley to multi-platinum hits from Off the Wall, Thriller, and Bad. Though he hadn't toured in 10 years, it becomes instantly apparent, despite rumors to the contrary, that Jackson was still in full possession of that unmistakable voice--high-pitched whoops and all--and that he still had the gravity-defying moves of a man half his age. Jackson and Ortega also collaborated on some real showstoppers, such as a graveyard-set "Thriller"; an imposing "They Don't Care About Us," in which several dancers appear to morph into thousands; and a film noir sequence in which the singer slides in and out of Gilda and other black-and-white classics, singing "Smooth Criminal" all the while. Not everything works, like the Jackson 5 numbers, in which he flubs a few lyrics, claiming that his earpiece isn't working properly, but as he readily acknowledges, "That's what rehearsal is for." It's a tragedy that he didn't get the chance to share this dazzling show with the world, but Ortega allows fans to feel as if it actually happened--at least onscreen. --Kathleen C. Fennessy



Stills from Michael Jackson: This Is It (Click for larger image)

 

 

 

See all Editorial Reviews

None.

Liquid error (layout/theme line 538): Could not find asset snippets/salesbox-common.liquid