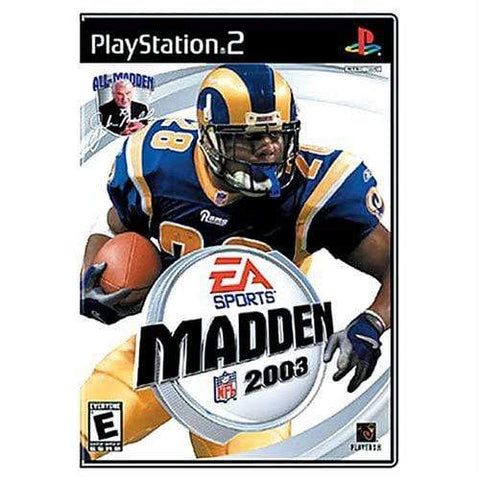 Madden NFL 2003 - Playstation 2
---
IN STOCK NOW!
~100% Satisfaction Guaranteed!
~120 day Money Back Guarantee
~All of our products ship direct from our warehouses in the USA!
Note: This Item is in used condition. This Item is in the original case with artwork as pictured but may be missing the instruction booklet and may have stickers on the exterior case. The video game disc is in like-new condition.
Product Description
EA heralds the return of the king as one of the greatest football titles in history returns for another year of hard-hitting gridiron action. Put on your pads and helmets and get out on the gridiron; this is going to be the game of your life. Madden NFL 2003 may well be the competitive standard for interactive football gaming, and it's going to be a very big year for football fans and video gamers everywhere!
Amazon.com
Madden NFL 2003 comes with a whole host of online features: You can now meet, greet, chat, and play head-to-head against other gamers. You can also download updated player rosters throughout the season. Madden NFL 2003 features all-new play-by-play and analysis by John Madden and Al Michaels and new gameplay mechanics, including a faster game speed, tighter controls, quicker animations, and more finely tuned passing. You can also customize receiver routes, player formations, and your team's entire playbook.

Liquid error (layout/theme line 538): Could not find asset snippets/salesbox-common.liquid