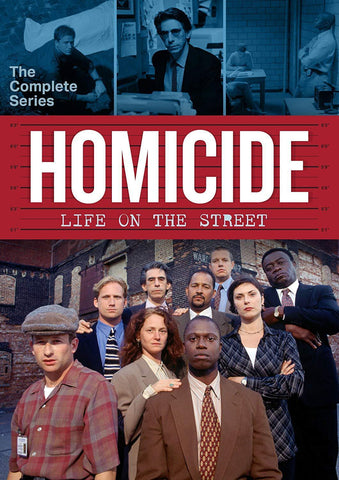 Homicide Complete Series on DVD
---
INCLUDES THE COMPLETE COLLECTION FOR ONLY $84.99!
This set is In Stock at our warehouse in Phoenix, Arizona. 
100% Satisfaction Guaranteed
120 Day Money Back Guarantee
This Set is Brand New and Still Sealed
 This set is Region 1 and will play in the USA and Canada
This set is in regular DVD format

Featuring all 122 episodes from the original series on 35 DVDs
One of television's most acclaimed and riveting dramas of all time, Homicide: Life On The Street, arrives in its entirety with this comprehensive 35-DVD collection.

Executive produced by Barry Levinson (director of Rain Man, Wag The Dog and Bugsy) and Tom Fontana (the creator behind HBO's Oz), and based on the book Homicide: A Year On The Killing Streets by David Simon (creator and executive producer of The Wire), Homicide: Life On The Street presented viewers with a gritty and realistic examination of detectives working the homicide division in Baltimore.

Featuring an outstanding ensemble cast, including Richard Belzer, Andre Braugher, Yaphet Kotto, Melissa Leo and Ned Beatty, Homicide also featured guest appearances from such notable actors as Robin Williams, Paul Giamatti, Rosanna Arquette, James Earl Jones, Joan Chen, Bruce Campbell, Jerry Orbach and many more.

A critical smash and a three-time Peabody Award winner, Homicide: Life On The Street remains one of television's finest hours about one of America's toughest jobs.


THIS ITEM IS IN STOCK AND READY TO SHIP FROM OUR WAREHOUSE IN PHOENIX, ARIZONA. DON'T MISS YOUR CHANCE TO GET THIS GREAT SET!
THE PHOTO BELOW IS FROM OUR WAREHOUSE AND OF THE ACTUAL ITEM WE WILL BE SHIPPING YOU!
Closed Captions and Details

Audio Language: English

Subtitles: None

Format: Full Screen (Black Bars on the top/bottom)

Region Code: Region 1 (Plays in the USA and Canada)

Disc Format: Regular DVD 

Homicide Life On The Streets

Great Series
So cool to see so many Stars when they were young and just getting their start!
Pristene condition of the DVDs.
Very fast delivery!

Liquid error (layout/theme line 538): Could not find asset snippets/salesbox-common.liquid