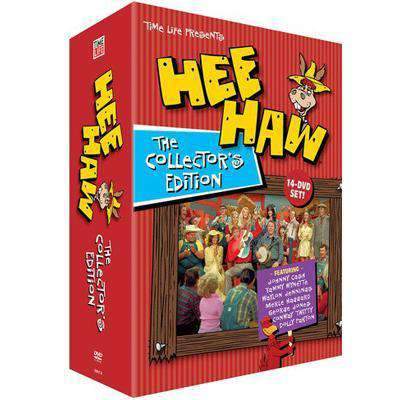 Hee Haw DVD Collector's Edition Box Set
---
 INCLUDES OVER 21 HOURS OF THE BEST EPISODES FOR ONLY $67.99
This set is In Stock at our warehouse in Phoenix, Arizona. 
100% Satisfaction Guaranteed
120 Day Money Back Guarantee
This Set is Brand New and Still Sealed
 This set is Region 1 and will play in the USA and Canada
This set is in regular DVD format
With a mix of down-to-earth and relatable characters, knee-slapping comedic zingers, and jaw-dropping musical performances, HEE HAW captivated large portions of the country when it first premiered on television in the late 1960s. One-liners flew. Stars like Johnny Cash and Dolly Parton performed. The show's co-hosts were Buck Owens and Roy Clark, and, on June 15th, 1969, the two musicians and songwriters, Buck and Roy, introduced a national audience to the fictional setting of Kornfield Kounty, a regular old place populated by hardworking farmers, barbers, banjo players, husbands, and housewives.
THIS ITEM IS IN STOCK AND READY TO SHIP FROM OUR WAREHOUSE IN PHOENIX, ARIZONA. DON'T MISS YOUR CHANCE FOR THIS GREAT SET!
THE PHOTO BELOW IS FROM OUR WAREHOUSE AND OF THE ACTUAL ITEM WE WILL BE SHIPPING YOU!
Closed Captions and Details

Audio Language: English

Subtitles: None

Format: Anamorphic Widescreen (No black bars on the top/bottom)

Region Code: Region 1 (Plays in the USA and Canada)

Disc Format: Regular DVD 

Condition: Brand New and Sealed

hee haw show hee haw tv show hee haw dvd hee haw on dvd time life hee haw
hee haw videos hee haw collection yee haw tv show hee haw dvd collection
hee haw tv hee haw complete series hee haw box set hee haw complete seasons hee haw complete collection hee haw dvd complete series hee haw comedy the hee haw collection hee haw dvd set hee haw dvd time life time life hee haw collection hee haw collector's edition hee haw series hee haw tv series
best of hee haw hee haw seasons hee haw television show

Well Done.

Received in great condition. Sent promptly.
Item in great condition. Good job.

Hee Haw DVD Collector's Edition Box Set

the old shows are the best.

HEE HAW GOOD CLEAN HUMMER.

Hee Haw

It's everything I wanted.It is funny and entertaining!

Love it

Love it grew up watching hee Haw .

Liquid error (layout/theme line 538): Could not find asset snippets/salesbox-common.liquid