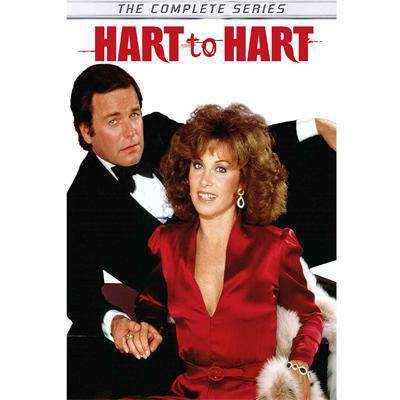 Hart To Hart DVD Complete Series Box Set
---
 INCLUDES EVERY EPISODE FROM THE ENTIRE SERIES FOR ONLY $62.99
This set is In Stock at our warehouse in Phoenix, Arizona. 
100% Satisfaction Guaranteed
120 Day Money Back Guarantee
This Set is Brand New and Still Sealed
 This set is Region 1 and will play in the USA and Canada
This set is in regular DVD format
Includes all 110 episodes from all 5 seasons on 29 discs
Robert Wagner (It Takes A Thief) and Stefanie Powers (The Girl From U.N.C.L.E.) take you on a jet-setting mystery tour in the charming and elegant Hart to Hart. Jonathan and Jennifer Hart, a wealthy and glamorous couple, always manage to find themselves caught up in intrigue and adventure. Along with their loyal and gravel-voiced servant Max (Lionel Stander), these stylish sleuths delighted audiences throughout Hart To Hart's five-season run on network television.
THIS ITEM IS IN STOCK AND READY TO SHIP FROM OUR WAREHOUSE IN PHOENIX, ARIZONA. DON'T MISS YOUR CHANCE FOR THIS GREAT SET!
THE PHOTO BELOW IS FROM OUR WAREHOUSE AND OF THE ACTUAL ITEM WE WILL BE SHIPPING YOU!
Closed Captions and Details

Audio Language: English

Subtitles: None

Format: Anamorphic Widescreen (No black bars on the top/bottom)

Region Code: Region 1 (Plays in the USA and Canada)

Disc Format: Regular DVD 

Condition: Brand New and Sealed

heart to heart tv show hart to hart tv show tv show hart to hart heart to heart tv series hart to hart season 1 heart to hart hart and hart hart to hart dvd hart to hart on dvd hart hart heart to heart tv hart to hart show hart to hart complete series hart to hart series tv series hart to hart hart to hart tv series hart to hart tv
hart to hart complete series dvd hart to hart dvd complete collection


Hart to hart

It's a 10, I love the series. I would recommend it. Thanks Blaze.

Hart to Hart box set

This was everything I expected and more.

Delivery time was faster than expected. Thank you!

Liquid error (layout/theme line 538): Could not find asset snippets/salesbox-common.liquid