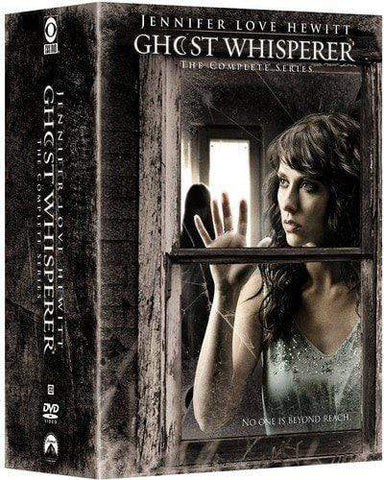 Ghost Whisperer The Complete Series on DVD
---
 Includes every episode from the entire series for Only $97.99
This set is In Stock at our warehouse in Phoenix, Arizona. 
100% Satisfaction Guaranteed
120 Day Money Back Guarantee
This Box Set is Brand New and Still Sealed
 This set is Region 1 and will play in the USA and Canada
This set is in regular DVD format
Get all 107 episodes from all 5 seasons on 29 discs. 
Every soul has something to say, and no one knows this better than Melinda Gordon (Jennifer Love Hewitt). Melinda inherited a unique gift from her grandmother: the ability to communicate with the spirits of people who have died, but who have unfinished business with the living. Over five moving seasons, Melinda navigates between this life and the next one, with help from her husband Jim (David Conrad), and devoted friends Delia (Camryn Manheim), Andrea (Aisha Tyler), Rick (Jay Mohr), Ned (Christoph Sanders) and Eli (Jamie Kennedy). A near-death experience has also left Eli with the ability to hear ghosts. In this complete series, 29-disc set containing all 107 episodes, Melinda meets a world of lost souls with messages for those they love. And she vows that she won't rest in peace until they do.
This item is In Stock and ready to ship from our warehouse in Phoenix, Arizona. Don't miss your chance for this great set!
The photo below is from our warehouse and of the actual item we will be shipping you!
Closed Captions and Details
Audio Language Options: English

Subtitle Options: 

Format: 

Region Code: Region 1 (This means this item plays in the USA and Canada)

Disc Format: Regular DVD 

Condition: Brand New and Sealed

Liquid error (layout/theme line 538): Could not find asset snippets/salesbox-common.liquid