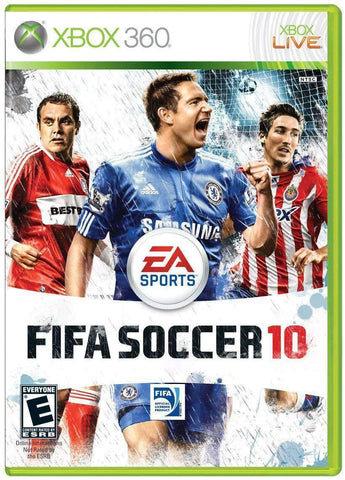 Fifa Soccer 10 for Xbox 360
---
IN STOCK NOW!
~100% Satisfaction Guaranteed!
~120 day Money Back Guarantee
~All of our products ship direct from our warehouses in the USA!
Note: This Item is in used condition. This Item is in the original case with artwork as pictured but may be missing the instruction booklet. The video game disc is in like-new condition. 
You have complete control over your players, with the ability to assign a specific role and movement to every outfield player on your team one at a time, and then combine them for the perfect set piece.

The first true 360 dribbling system in a soccer game gives you precise control to skillfully play spaces between defenders that previously was not possible.

Advanced animation warping technology lets skilled players face defenders and maneuver around them with highly-responsive lateral dribbling.

More intelligent AI with more authentic behavior. Players now avoid passes not intended for them, avoid blocking teammate shots, and throw themselves in the way of attacker's shots in defense.

Work on individual skills in a fully featured practice mode before stepping on the pitch. Select exactly how many attackers and defenders you want in play, and practice set pieces.
Liquid error (layout/theme line 538): Could not find asset snippets/salesbox-common.liquid