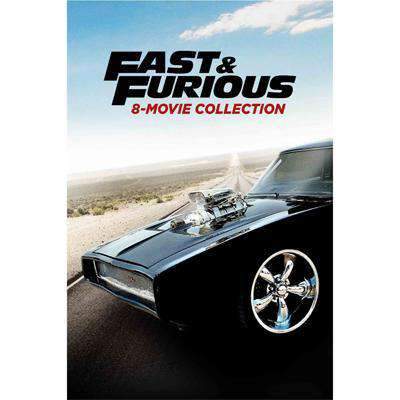 Fast & Furious DVD Collection Includes All 8 Movies!
---
 INCLUDES ALL 8 MOVIES FOR ONLY $47.99
This set is In Stock at our warehouse in Phoenix, Arizona. 
100% Satisfaction Guaranteed
120 Day Money Back Guarantee
This Box Set is Brand New and Still Sealed
 This set is Region 1 and will play in the USA and Canada
This set is in regular DVD format
Buckle up for the Fast and Furious movie collection on DVD. The Fast and Furious movie series includes all 8 movies in this 9 disc set. The Fast and Furious collection DVD begins with the first movie that premiered in 2001 and the 8th premiering in 2017. Get every Fast and Furious movie in one amazing set!
THIS ITEM IS IN STOCK AND READY TO SHIP FROM OUR WAREHOUSE IN PHOENIX, ARIZONA. DON'T MISS YOUR CHANCE FOR THIS GREAT SET!
THE PHOTO BELOW IS FROM OUR WAREHOUSE AND OF THE ACTUAL ITEM WE WILL BE SHIPPING YOU!
Closed Captions and Details

Audio Language Options: English & French

Subtitle Options: English 

Format: Anamorphic Widescreen (No black bars on the top or bottom)

Region Code: Region 1 (Plays in the USA and Canada)

Disc Format: Regular DVD 

Condition: Brand New and Sealed

 fast furious movies fast furious series fast & furious movies in order fast and furious movie set fast furious franchise fast and furious dvd fast n furious movies fast and furious dvd set the fast and the furious dvd fast and furious dvd collection fast & furious all movies fast furious collection fast and furious 7 movie collection fast n furious series furious franchise fast n furious in order fast and furious movie pack fast and furious box set dvd fast and furious dvd box set 

very fast and furious

very fast and furious was the service i recieved my fast and furious dvd collection in record time and my boyfriend loves me for getting them just because but the great part about it is im not good at keeping sueprise secrets and the fact that they were in my mailbox within five days at no extra charge was awesome i will use them again and to top it off they sent my a 5 dollar off coupon.

if you love fast cars

always been a fan of the series it is great to have them all in 1 set

Fair price, fast shipping

This was quick and easy. I got what I wanted and it was shipped faster than expected. Will definitely use again.

Liquid error (layout/theme line 538): Could not find asset snippets/salesbox-common.liquid