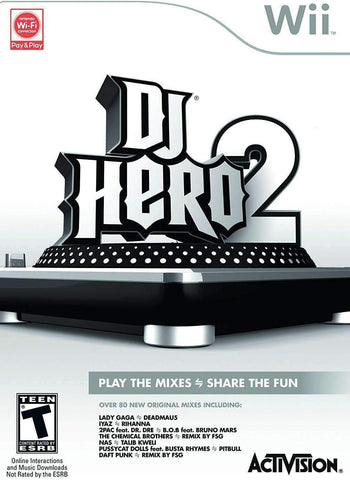 DJ Hero 2 for Nintendo Wii
---
IN STOCK NOW!
~100% Satisfaction Guaranteed!
~120 day Money Back Guarantee
~All of our products ship direct from our warehouses in the USA!
Note: This Item is in used condition. This Item is in the original case with artwork as pictured but may be missing the instruction booklet. 
Have the first DJ Hero? Expand your setlist with new DJ Hero 2! DJ Hero 2 one-ups its predecessor and mixes even hotter tracks from the biggest artists in pop, dance and hip hop including: Lady Gaga, Kanye West, Chemical Brothers, Dr. Dre, and more.

Play how you want: Change how the mix sounds each time you play with new Freestyle sections, which let you scratch, sample, and crossfade the way you want. Never play a mix the same way twice.

All-new Empire Mode sends players on a journey starting out as a lowly warehouse DJ on the road to becoming the head of a major music empire. Unlock new perks and rewards with each step in your career.

All-new multiplayer modes redefine the DJ Hero experience. Innovative DJ Battles feature custom mixes and authentic back-and-forth DJ gameplay. New multiplayer modes including Accumulator, Checkpoints and Streakers.

Don't stop the party: Party Play mode turns DJ Hero 2 into the ultimate party accessory. Let the games incredible mixes play themselves and or jump- in/jump- out to take control and play along without ever stopping the music.
Liquid error (layout/theme line 538): Could not find asset snippets/salesbox-common.liquid