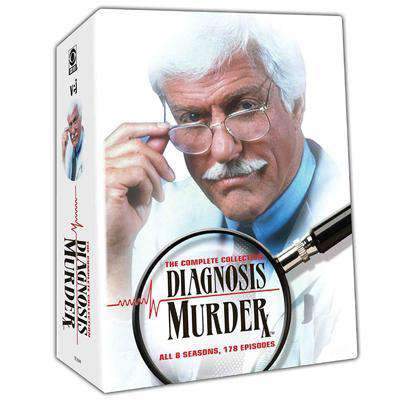 Diagnosis Murder DVD Complete Series Box Set
---
 INCLUDES EVERY EPISODE FROM THE ENTIRE SERIES FOR ONLY $97.99
This set is In Stock at our warehouse in Phoenix, Arizona. 
100% Satisfaction Guaranteed
120 Day Money Back Guarantee
This Box Set is Brand New and Still Sealed
 This set is Region 1 and will play in the USA and Canada
This set is in regular DVD format
Includes all 178 episodes from all 8 seasons on 32 discs
Diagnosis Murder on DVD is now available in this Diagnosis Murder DVD collection. Diagnosis Murder TV show began airing on CBS in 1993. Dr. Mark Sloan (Dick Van Dyke) is a medical doctor who solves crimes with the help of his son, Steve. There are 178 total episodes of the series that span over 8 seasons. This complete series box set includes every one of those episodes on 32 discs. 
THIS ITEM IS IN STOCK AND READY TO SHIP FROM OUR WAREHOUSE IN PHOENIX, ARIZONA. DON'T MISS YOUR CHANCE FOR THIS GREAT SET!
THE PHOTO BELOW IS FROM OUR WAREHOUSE AND OF THE ACTUAL ITEM WE WILL BE SHIPPING YOU!
Closed Captions and Details

Audio Language Options: English

Subtitle Options: None

Format: Full Screen

Region Code: Region 1 (Plays in the USA and Canada)

Disc Format: Regular DVD 

Condition: Brand New and Sealed

diagnosis murder dvd box set diagnosis murder dvd set diagnosis murder tv series on dvd diagnosis murder movies dvd diagnosis murder complete series 38 dvd buy diagnosis murder dvd diagnosis murder dvd series diagnosis murder complete dvd set diagnosis murder 1975 dvd diagnosis murder seasons 1 8 dvd diagnosis murder the complete tv series on dvd diagnosis murder imdb diagnosis murder 1992 diagnosis murder box set 

Diagnosis Murder

Usual quick service on delivery. I have started watching the series and am quite pleased with the (1) quality of the remastered episodes thus far, and (2) the storylines. This is an old series and no foul language or other obscenities to violate our sensibilities. OK, so I'm an oldie, but I still prefer the clean programs. Dick Van Dyke and cast do a wonderful job in this series and I highly recommend it for an enjoyable evening's entertainment. Admittedly I have only watched the pilot, original three movies and three of the first season's episodes. But it looks like an enjoyable ride.

Diagnosis Murder

I couldn't be more pleased with the delivery, apparent good condition of the unopened package. Thanks for your good service...Respectfully, a continuing customer!

Liquid error (layout/theme line 538): Could not find asset snippets/salesbox-common.liquid