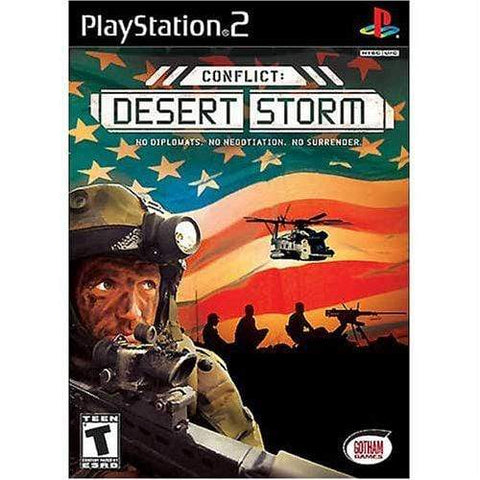 Conflict: Desert Storm - PlayStation 2
---
IN STOCK NOW!
~100% Satisfaction Guaranteed!
~120 day Money Back Guarantee
~All of our products ship direct from our warehouses in the USA!
Note: This Item is in used condition. This Item is in the original case with artwork as pictured but may be missing the instruction booklet and may have stickers on the exterior case. The video game disc is in like-new condition.
Product Description
Positioned deep behind enemy lines in the heart of the Gulf War, you head 4 members of the world's best-equipped, highest-trained Special Forces - the British SAS or U.S. Delta Force squads. In Conflict: Desert Storm your task is to seek and destroy enemy targets and create havoc across communication and supply lines. Success depends upon your skillful use of stealth, combat tactics and the individual expertise of each of your squad members.
From the Manufacturer
Conflict: Desert Storm lets you lead one of the best-known and most feared special operations forces in the world: the elite British SAS or the U.S. Delta Force. Covert missions take you through hostile environments where only your expertise in stealth, tactics, and firepower will ensure the success and safety of your men. Your missions are as unpredictable as they are dangerous: from vital Scud-hunting missions deep within enemy territory to highly secretive rescue and assassination operations in Baghdad itself.

Liquid error (layout/theme line 538): Could not find asset snippets/salesbox-common.liquid