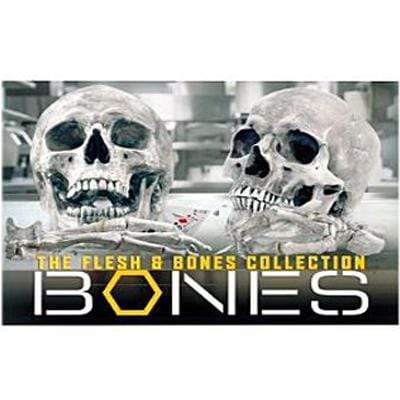 Bones DVD Series Seasons 1-12 Set
---
 INCLUDES EVERY EPISODE FROM THE ENTIRE SERIES FOR ONLY $127.99!
This set is In Stock at our warehouse in Phoenix, Arizona. 
100% Satisfaction Guaranteed
120 Day Money Back Guarantee
This Box Set is Brand New and Still Sealed
 This set is Region 1 and will play in the USA and Canada
This set is in regular DVD format
Includes all 246 episodes from all 12 seasons on 67 discs. 
The Bones TV show follows the life of Dr. Temprance Brennan and Seeley Booth as they use science and their wits to solve real life crimes. This Bones TV series includes every episode from all 12 seasons. The show began airing in 2005 on Fox. Bones Seasons 1-12 is loosely based on the life and writings of Kathy Reichs. 
THIS ITEM IS IN STOCK AND READY TO SHIP FROM OUR WAREHOUSE IN PHOENIX, ARIZONA. DON'T MISS YOUR CHANCE FOR THIS GREAT SET!
THE PHOTO BELOW IS FROM OUR WAREHOUSE AND OF THE ACTUAL ITEM WE WILL BE SHIPPING YOU!
Closed Captions and Details

Audio Language: English, French, Spanish

Subtitles: English

Format: Widescreen

Region Code: Region 1 (Plays in the USA and Canada)

Disc Format: Regular DVD 

Condition: Brand New and Sealed

bone tv how many seasons of bones how many seasons of bones are there bones show bones series the bone tv bones new season bones complete series when did bones start how many seasons does bones have bones box set bones season 11 dvd what season is bones on bones all seasons bones complete series box set when is bones on tv bones television show bones dvd box set bones on dvd box set bones dvd collection bones dvd set bones seasons on dvd tv program bones bones complete box set bones television series bones series dvd bones all seasons dvd bones complete season bones full seasons bones series dvd set

Enjoy the dvd bones is one if my favorites

Bones!

This was great! I looked everywhere, including Amazon, and couldn't find the entire collection. Blaze had the whole collection, season 1-12 and it was very reasonable priced!! O will definitely be back!

Liquid error (layout/theme line 538): Could not find asset snippets/salesbox-common.liquid