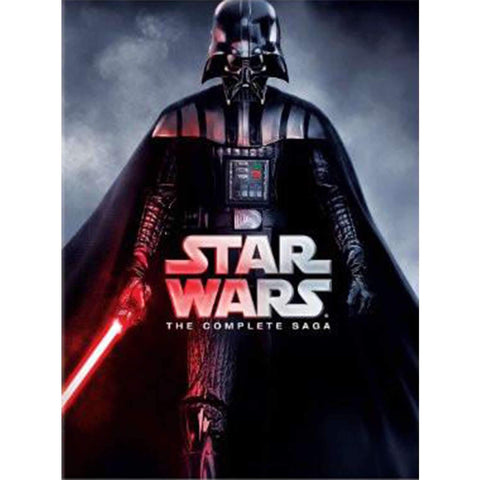 Star Wars Blu-Ray Complete Saga Box Set (Episodes I-VI)
---
 INCLUDES ALL 6 MOVIES FOR ONLY $57.99!
This set is In Stock at our warehouse in Phoenix, Arizona. 
100% Satisfaction Guaranteed
120 Day Money Back Guarantee
This Set is Brand New and Still Sealed
 This set is Region 1 and will play in the USA and Canada
This set is in Blu-Ray format
Includes all 6 movies on 9 discs. 
The Star Wars Complete Saga on Blu-Ray includes Episodes I-VI (1-6). It also includes Star Wars Documentaries, deleted extended and alternate scenes; prop, maquette and costume turnarounds; matte paintings and concept art; supplementary interviews with cast and crew; and more. This amazing series includes all 6 movies in stunning high definition. This set also includes over 40 hours of special features! 
This set includes the following movies
Star

 

Wars: Episode I - The Phantom Menace (1999) ...
Star

 

Wars: Episode II - Attack of the Clones (2002) ...
Star

 

Wars: Episode III - Revenge of the Sith (2005) ...
Star

 

Wars: Episode IV - A New Hope (1977) ...
Star

 

Wars: Episode V - The Empire Strikes Back (1980) ...
Star

 

Wars: Episode VI - Return of the Jedi (1983)
THIS ITEM IS IN STOCK AND READY TO SHIP FROM OUR WAREHOUSE IN PHOENIX, ARIZONA. DON'T MISS YOUR CHANCE TO GET THIS GREAT SET!
THE PHOTO BELOW IS FROM OUR WAREHOUSE AND OF THE ACTUAL ITEM WE WILL BE SHIPPING YOU!
Closed Captions and Details
Audio Language: English, French, Spanish

Subtitles: English, French, Spanish

Format: Anamorphic Widescreen (No black bars on the top or bottom)

Region Code: Region 1 (Plays in the USA and Canada)

Disc Format: Blu-Ray

Condition: Brand New and Sealed

star wars blu ray star wars complete saga bluray star wars blu ray box set star wars collection blu ray star wars saga blu ray star wars blu ray set star wars blue ray star wars movies blu ray blu ray star wars star wars complete blu ray star wars dvd blu ray star wars complete set blu ray star wars 2011 blu ray star wars complete saga blu ray 2015 star wars movie collection blu ray star wars the complete saga blu ray 2011 all star wars movies blu ray star wars series blu ray

STAR WARS 1-6 Blu-ray Box Set (THE REAL COMPLETE SAGA)

I wish all companies did business like Blaze. I had a great experience. I placed my order last week and it arrived in a few days exactly as you see in the picture. I have no complaints. I will definitely do business with them again. You won't find a better price on this set anywhere. By the way, the "REAL" Star Wars saga ended with Return of the Jedi. The Disney movies are mindnumbingly stupid and flat out insulting to true, lifelong fans of the franchise.

Star Wars

this purchase was a gift and I did not open it. The box arrived in a timy manner which I appreciated

not complete.. its one thru 9...not one thru 6..

Its incomplete... one thru nine... 1-6 is lucas...last ones are disney... Im not ever buying 1-6 only

Great service and price!!

Fantastic!! Arrival was fast and the best but I had seen!!!

Liquid error (layout/theme line 538): Could not find asset snippets/salesbox-common.liquid