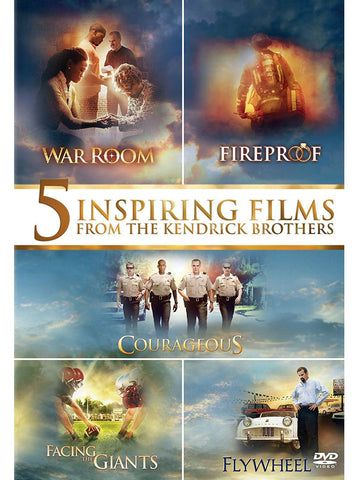 5 Inspiring Films from the Kendrick Brothers on DVD
---
 INCLUDES ALL 5 MOVIES FOR ONLY $21.99
This set is In Stock at our warehouse in Phoenix, Arizona. 
100% Satisfaction Guaranteed
120 Day Money Back Guarantee
This Box Set is Brand New and Still Sealed
 This set is Region 1 and will play in the USA and Canada
This set is in regular DVD format
Includes all 5 movies on 5 discs
Five Not to be Missed Faith-based Films are included in this set!
Facing the Giants
A losing coach with an underdog football team faces their giants of fear and failure on and off the field to surprising results.
Fireproof
In an attempt to save his marriage, a firefighter uses a 40-day experiment known as "The Love Dare".
War Room
A seemingly perfect family looks to fix their problems with the help of Miss Clara, an older, wiser woman.
Flywheel
A dishonest used car salesman decides to become the salesman that God wants him to be - with surprising results.
Courageous
When a tragedy strikes close to home, four police officers struggle with their faith and their roles as husbands and fathers; together they make a decision that will change all of their lives.
THIS ITEM IS IN STOCK AND READY TO SHIP FROM OUR WAREHOUSE IN PHOENIX, ARIZONA. DON'T MISS YOUR CHANCE TO GET THIS GREAT SET!
THE PHOTO BELOW IS FROM OUR WAREHOUSE AND OF THE ACTUAL ITEM WE WILL BE SHIPPING YOU!
DVDs were sent to a 90 year young woman who was elated upon receiving them and is enjoying them in her leisure. DVDs are such a blessing to those who are spending more time at home.

I "Returned to Sender" as requested since I was informed you didn't check the vmail I left immediately after the order to cancel it.

Looking forward to the full refund.

Thanks

Kendrick brothers 5 films

I'm very satisfied with my purchase from Blaze. Very prompt handling and shipping. I couldn't ask for more from a company. Thank you.

Great purchase:-)

We are enjoying our movies and like that they are in one case!
The price was wonderful!!

Liquid error (layout/theme line 538): Could not find asset snippets/salesbox-common.liquid