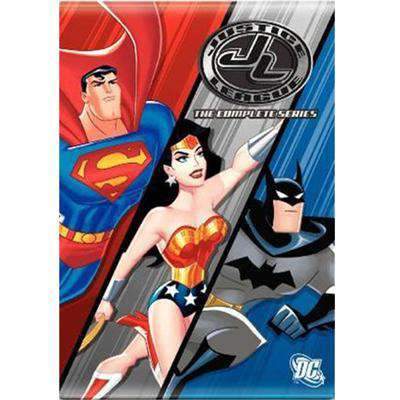 Justice League DVD Complete Series Set
---
 INCLUDES EVERY EPISODE FROM THE ENTIRE SERIES FOR ONLY $47.99!
This set is In Stock at our warehouse in Phoenix, Arizona. 
100% Satisfaction Guaranteed
120 Day Money Back Guarantee
This Set is Brand New and Still Sealed
 This set is Region 1 and will play in the USA and Canada
This set is in regular DVD format
Includes all 52 episodes from all 3 seasons on 10 discs
The Justice League complete series box set  is now available on DVD! The animated series began airing in 2001 until 2004 on Cartoon Network. The Justice League is a group of super heroes that team up to stop the evil in the world. They must learn to work together as a team rather than individuals to protect the world. Enjoy every minute as Batman, Superman, Wonder Woman, Flash, and the rest of the team fight Lex Luther, Brainiac, Despero, Captain Cold, Bizarro, and many more. 
THIS ITEM IS IN STOCK AND READY TO SHIP FROM OUR WAREHOUSE IN PHOENIX, ARIZONA. DON'T MISS YOUR CHANCE FOR THIS GREAT SET!
THE PHOTO BELOW IS FROM OUR WAREHOUSE AND OF THE ACTUAL ITEM WE WILL BE SHIPPING YOU!
Closed Captions and Details

Audio Language: English

Subtitles: French, Spanish

Format: Anamorphic Widescreen (No black bars on the top or bottom)

Region Code: Region 1 (Plays in the USA and Canada)

Disc Format: Regular DVD 

Condition: Brand New and Sealed

justice league cartoon justice league on dvd justice league tv series justice league animated justice league animated series justice league tv show justice league series justice league complete series justice league set justice league season flash justice league cartoon justice league collection justice league cartoon series justice league animated show batman justice league cartoon justice league box set justice league dvd box set dvd justice league justice league animated tv show justice league cartoon show justice league complete series dvd buy justice league justice league 2000 justice league 2002 justice league 2004 

Justice League the Complete Series

It is great!! Just love it!

Liquid error (layout/theme line 538): Could not find asset snippets/salesbox-common.liquid