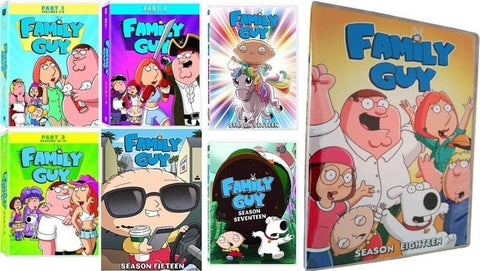 Family Guy Seasons 1-18 DVD Set
---
 Includes every episode from all 18 seasons for only $157.99!
This set is In Stock at our warehouse in Phoenix, Arizona. 
100% Satisfaction Guaranteed
120 Day Money Back Guarantee
This Box Set is Brand New and Still Sealed
This set is Region 1 and will play in the USA and Canada
This set is in regular DVD format
Get all 407 episodes from 18 seasons on 58 discs.
The dysfunctional Griffins of Quahog, Rhode Island, invite comparisons to The Simpsons. The testicular-chinned father, Peter Griffin, is a clueless oaf in the Homer mold. "Peter, what did you promise me last night?" asks his long-suffering wife Lois in one episode. "That I wouldn't drink at the stag party," he replies. "And what did you do?" she asks. "Drank at the stag part--oh ho ho, I almost walked into that one," he cackles. Other family members include teenage daughter Meg, a desperate high school social pariah; 13-year-old son Chris, a chip off his father's blockhead; and Brian, the family's sarcastic talking dog. But this series' true inspiration is football-pated Stewie (voiced by McFarlane, who earned an Emmy), who was born to be a Bond villain once he escaped his mother's "ovarian bastille." Family Guy recklessly ventured where The Simpsons feared to tread.
This item is In Stock and ready to ship from our warehouse in Phoenix, Arizona. Don't miss your chance for this great set!
Closed Captions and Details

Audio Language Options: 

Subtitle Options: 

Format: 

Region Code: Region 1 (Plays in the USA and Canada)

Disc Format: Regular DVD 

Condition: Brand New and Sealed

Liquid error (layout/theme line 538): Could not find asset snippets/salesbox-common.liquid