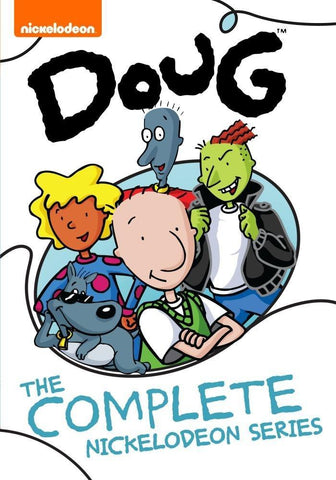 Doug The Complete Series DVD Set
---
 Includes every episode from the entire series for Only $47.99
This set is In Stock at our warehouse in Phoenix, Arizona. 
100% Satisfaction Guaranteed
120 Day Money Back Guarantee
This Box Set is Brand New and Still Sealed
 This set is Region 1 and will play in the USA and Canada
This set is in regular DVD format
Tune in to over 20 hours of Doug Funnie, the new kid in Bluffington. His life may appear to be pretty average, but with the help of his friends Skeeter and Beebe, his crush Patti Mayonnaise, the school bully Roger, and his trusty journal, it's anything but! Check out these 52 episodes for some righteous rock and roll from Doug and Skeeter's favorite band, the Beets, fly off on crime fighting crusades when Doug imagines that he and his dog, Porkchop, are heroes Quailman and Quaildog, fighting off evil villains like Dr. Klotzenstein. Watch as Doug's artsy sister Judy gives new meaning to the phrase, "all the world's a stage." And of course, be there for Doug as he endlessly tries to win over the object of his affection, Patti. From competing in a cooking competition, to surviving a bad picture day at school, to being mayor for a day, check out the not so-average adventures of Doug and all his pals.
This item is In Stock and ready to ship from our warehouse in Phoenix, Arizona. Don't miss your chance for this great set!
THE PHOTO BELOW IS FROM OUR WAREHOUSE AND OF THE ACTUAL ITEM WE WILL BE SHIPPING YOU!
OUTSTANDING

I've been searching for this box set for 2 year's. Now I get to enjoy it. Package arrived faster than expected, but I'm not one to complain. While be making more purchases from BLAZEDVDS in the future.

Liquid error (layout/theme line 538): Could not find asset snippets/salesbox-common.liquid