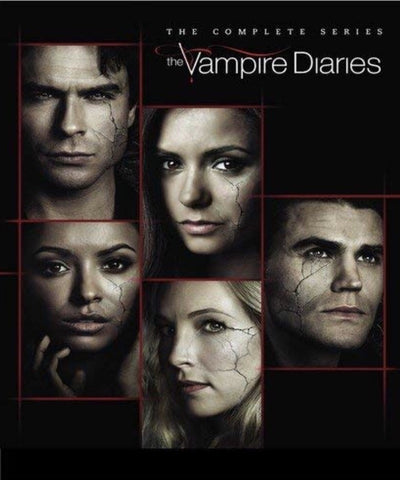 Vampire Diaries DVD Seasons 1-8 Set
---
 INCLUDES EVERY EPISODE FROM THE ENTIRE SERIES FOR ONLY $87.99!
This set is In Stock at our warehouse in Phoenix, Arizona. 
100% Satisfaction Guaranteed
120 Day Money Back Guarantee
This Set is Brand New and Still Sealed
 This set is Region 1 and will play in the USA and Canada
This set is in regular DVD format
Includes all 171 episodes from all 8 seasons on 43 discs
The Vampire Diaries TV series aired on the CW from 2009 until 2017. This complete series box set includes every episode from this hit TV show. The show is set in the town of Mystic Falls, Virginia. The show follows Elena Gilbert who meets a 162 year old vampire named Stefan Salvatore. When Stefan's brother Damon returns he has a plan to bring back Kathrine Pierce. She is a vampire that looks exactly like Elena. The show delves into the brother's background and the town's mythology using flashbacks. 
THIS ITEM IS IN STOCK AND READY TO SHIP FROM OUR WAREHOUSE IN PHOENIX, ARIZONA. DON'T MISS YOUR CHANCE TO GET THIS GREAT SET!
THE PHOTO BELOW IS FROM OUR WAREHOUSE AND OF THE ACTUAL ITEM WE WILL BE SHIPPING YOU!
Closed Captions and Details

Audio Language: English, French, Spanish

Subtitles: English

Format: Anamorphic Widescreen (No Black Bar on the Top or Bottom)

Region Code: Region 1 (Plays in the USA and Canada)

Disc Format: Regular DVD 

Condition: Brand New and Sealed

how many seasons of vampire diaries vampire diaries season 1 vampire diaries seasons cw vampire diaries the vampire diares vampire diaries season vampire diaries vampire vampire diaries series vampire diaries all seasons vampire diaries complete series vampire diaries set tvds vampire diaries on dvd tvd season 1 vampire diaries season one vampire diaries videos vampire diaries box set the vampire diaries complete series vampire diaries complete series dvd the vampire diaries dvd vampire dvd vampire diaries dvd box set vampire diaries tv series vampire diaries tv vampire diaries show vampire diaries dvd set the vampire diaries box set

Vampire Diaries DVD Seasons 1-8 Set

No me gusto

No me gusto sinceramente la pedi por que decia que venia en español en audio y solo viene en ingles y portugues osea para k ponen algo q no va me molesto mucho

Vampire Diaries DVD Seasons 1-8 Set

Fast shipping, some of the scenes skip even though theres no scratches on the disks cause they're new but other than that its pretty good.

Vampire diaries complete box set

The quality is very poor. Almost every disc skips or turns off.
I'm not happy at all.

Liquid error (layout/theme line 538): Could not find asset snippets/salesbox-common.liquid