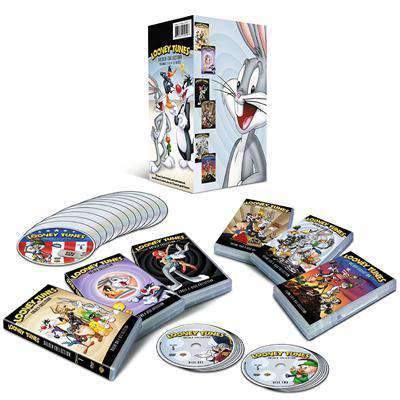 Looney Tunes Golden Collection DVD Volume 1-6 Set
---
 INCLUDES EVERY EPISODE FROM ALL 6 VOLUMES FOR ONLY $82.99!
This set is In Stock at our warehouse in Phoenix, Arizona. 
100% Satisfaction Guaranteed
120 Day Money Back Guarantee
This Set is Brand New and Still Sealed
 This set is Region 1 and will play in the USA and Canada
This set is in regular DVD format
Includes all 356 episodes from all 6 volumes on 24 discs
The Looney Tunes Golden Collection is now available on DVD. Enjoy every moment of the 356 episodes starring Bugs Bunny, Daffy Duck, Sylvester and Tweety, Yosemite Sam, and all the gang. Every episode is sure to bring plenty of laughter as all the character's antic are timeless. This set includes all 6 volumes in one box set. Get yours today!
THIS ITEM IS IN STOCK AND READY TO SHIP FROM OUR WAREHOUSE IN PHOENIX, ARIZONA. DON'T MISS YOUR CHANCE TO GET THIS GREAT SET!
THE PHOTO BELOW IS FROM OUR WAREHOUSE AND OF THE ACTUAL ITEM WE WILL BE SHIPPING YOU!
Closed Captions and Details

Audio Language: English, French

Subtitles: English, French, Spanish

Format: Anamorphic Widescreen (No Black Bars on the Top or Bottom)

looney toons bugs bunny cartoons looney tunes cartoons looney tunes golden collection the looney tunes ooney tunes videos looney tunes complete collection looney tunes collection looney toons cartoon classic looney tunes looney tunes cds original looney tunes old looney tunes looney tunes and merrie melodies looney tunes 1930 looney tunes box set looney tunes dvd collection looney tunes vhs golden toons looney tunes dvd set looney tunes dvd complete collection looney tunes animation all looney tunes the looney toons looney toons dvd looney toons collection looney tunes golden collection volume 1-6 old looney tunes cartoons old looney toons bugs bunny cartoons dvd bugs bunny dvd box set looney tunes dvd box set looney tunes golden collection 1-6 complete bugs bunny collection looney tunes series looney tunes golden collection dvd bugs bunny collection best looney tunes collection

This item is a Christmas gift

The Lost Looney Tunes

Once again our great postal service couldn't do the job right and didn't scan the package when it arrived at locations. The day my package was scheduled to be delivered came and went. All total after 72 hours of package in limbo, showing on tracking as the package delayed, delivery later than expected I contacted Blaze, I don't know what they did but I had my package within 48 hours.
Thanks for the help.

Great Addition to my Growing Collection

I was looking for the Looney Tunes Golden Collection DVD Volume 1-6 Set, found it on Blaze DVDs, it was out of stock, they e-mailed me when it was back in stock, I ordered it and received it about a week later. Can't wait to start watching. I'm glad I found a family owned company with many more DVD collections to keep my collection growing. Great Customer Service as well.

Great collection!

What a great addition to my DVD collection. Fond memories of Saturday morning and after-school cartoons. THANK YOU BLAZE DVDs for a great item at a great price. Fast delivery.

Package arrived on time and in perfect condition.

Liquid error (layout/theme line 538): Could not find asset snippets/salesbox-common.liquid