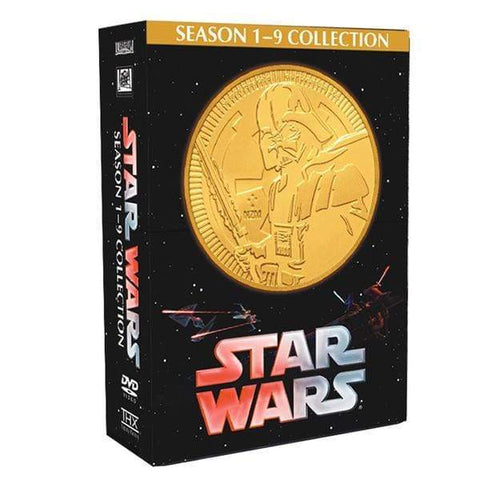 Star Wars DVD Complete 9 Movie Set (Episodes I-IX) Box Set
---
 INCLUDES ALL 9 MOVIES FOR ONLY $97.99!
This set is In Stock at our warehouse in Phoenix, Arizona. 
100% Satisfaction Guaranteed
120 Day Money Back Guarantee
This Set is Brand New and Still Sealed
 This set is Region 1 and will play in the USA and Canada
This set is in regular DVD format
Includes all 9!movies on 15 discs
Re-live every moment from the first six movies in STAR  WARS The Complete DVD Box Set. This incredible collection includes all six movies in one stunning box set. After watching all 9 movies you can't help but want to delve deeper into the special features and learn more about your favorite movies. This box set includes more than 40 hours of special features on 3 bonus discs. Enjoy the deleted and extended scenes as well as cast and crew interviews on the bonus discs. 
This set includes the following Movies
Star

 

Wars: Episode I - The Phantom Menace (1999) ...
Star

 

Wars: Episode II - Attack of the Clones (2002) ...
Star

 

Wars: Episode III - Revenge of the Sith (2005) ...
Star

 

Wars: Episode IV - A New Hope (1977) ...
Star

 

Wars: Episode V - The Empire Strikes Back (1980) ...
Star

 

Wars: Episode VI - Return of the Jedi (1983)
Star Wars: Episode VII - The Force Awakens 
Star Wars: Episode VIII - The last Jedi 
Star Wars: Episode IX - The Rise of Skywalker 
THIS ITEM IS IN STOCK AND READY TO SHIP FROM OUR WAREHOUSE IN PHOENIX, ARIZONA. DON'T MISS YOUR CHANCE TO GET THIS GREAT SET!
THE PHOTO BELOW IS FROM OUR WAREHOUSE AND OF THE ACTUAL ITEM WE WILL BE SHIPPING YOU!
Closed Captions and Details

Audio Language: English, French, Spanish

Subtitles: English, French, Spanish

Format: Widescreen

Region Code: Region 1 (Plays in the USA and Canada)

Disc Format: Regular DVD 

Condition: Brand New and Sealed

star wars movies star wars videos star wars box set star wars dvd set star wars dvd the complete saga star wars dvd box set star wars dvd collection star wars dvd movies star wars movies dvd original star wars dvd star wars dvd original buy star wars star wars dvd movie collection star wars dvd saga star wars series dvd dvd star wars star wars dvd sales star wars dvds for sale star wars movie dvd set original star wars movies on dvd star wars dvd with original version all star wars movies on dvd star wars dvd set 1-7 all star wars dvds

Outstanding!!!

To be perfectly honest, I kind of cheated myself out of an opportunity to watch them in order, but I started with the final three episodes, because I was the least familiar with them, but having the entire saga in one boxed, high quality, high definition set is truly awesome to say the least... You guys ROCK!!!...

Star Wars Saga

I am very happy with the. I plan to purchase the remaining star war films.

Star wars set

I got it and am satisfied with it.I don't have to wait to see it on TNT anymore.

Liquid error (layout/theme line 538): Could not find asset snippets/salesbox-common.liquid