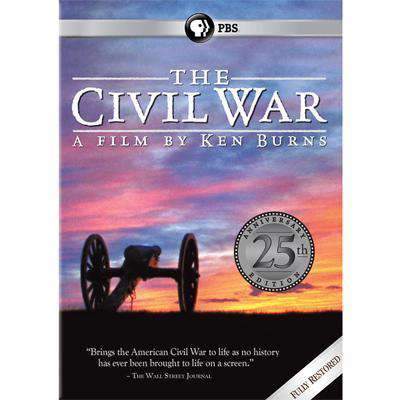 Ken Burns The Civil War DVD Complete Set
---
 INCLUDES THE ENTIRE RUN OF THE DOCUMENTARY FOR ONLY $42.99!
This set is In Stock at our warehouse in Phoenix, Arizona. 
100% Satisfaction Guaranteed
120 Day Money Back Guarantee
This Set is Brand New and Still Sealed
 This set is Region 1 and will play in the USA and Canada
This set is in regular DVD format
 The Civil War series was created by Ken Burns. The show originally aired on PBS in 1990 and was rebroadcast in 2015 to commemorate the shows 25th anniversary. This complete series box set was digitally restored to achieve the highest definition possible. This six disc set includes the original series as well as over 2 hours of bonus content. Get your set today!
THIS ITEM IS IN STOCK AND READY TO SHIP FROM OUR WAREHOUSE IN PHOENIX, ARIZONA. DON'T MISS YOUR CHANCE FOR THIS GREAT SET!
THE PHOTO BELOW IS FROM OUR WAREHOUSE AND OF THE ACTUAL ITEM WE WILL BE SHIPPING YOU!
Closed Captions and Details

Audio Language: English

Subtitles: English

Format: Anamorphic Widescreen (No Black bars on the top or bottom)

Region Code: Region 1 (Plays in the USA and Canada)

Disc Format: Regular DVD 

Condition: Brand New and Sealed

ken burns civil war documentary ken burns civil war on pbs ken burns civil war pbs ken burns civil war dvd ken burns civil war series ken burns civil war film ken burns civil war hd ken burns civil war video ken burns civil war movie us civil war ken burns ken burns civil war 2015 ken burns civil war on tv ken burns civil war doc ken burns civil war remastered ken burns civil war 4k

Ken Burns Civil War

This is the best done Civil War documentary. Ken Burns research is in depth and accurate.

Civil War

Great viewing I like the fact I can view it over and over again

Ken Burns

He is the best filmmaker for documentaries. We have enjoyed each and every one. He has shown us how the world really is.

Ken Burns: The Civil War series

Worthwhile documentary. I highly recommend this.

Liquid error (layout/theme line 538): Could not find asset snippets/salesbox-common.liquid