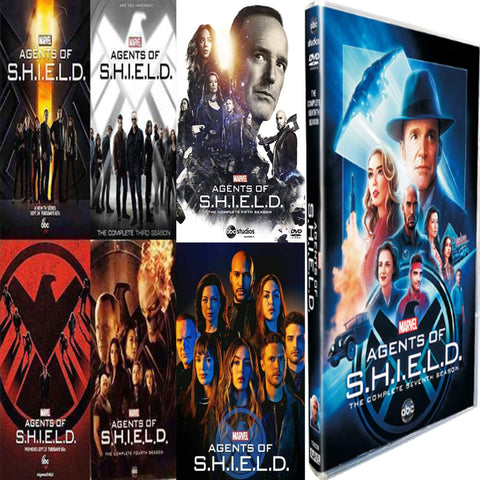 Marvel's Agents of Shield TV Series Seasons 1-7 DVD Set
---
 INCLUDES EVERY EPISODE FROM ALL 7 SEASONS FOR ONLY $87.99!
This set is In Stock at our warehouse in Phoenix, Arizona. 
100% Satisfaction Guaranteed
120 Day Money Back Guarantee
This Set is Brand New and Still Sealed
 This set is Region 1 and will play in the USA and Canada
This set is in regular DVD format
Includes all 136 episodes from 7 seasons on 40 discs
Marvel's Agents of Shield is a TV series that is based on the Marvel universe. It follows the fictional Shield organization as they try and protect the world from the Inhumans. The series stays in connection with the Marvel films and other Marvel TV series' and makes one continuous story line. The series began airing on ABC in 2013. This set includes every episode from the first 7 seasons of the series. 
THIS ITEM IS IN STOCK AND READY TO SHIP FROM OUR WAREHOUSE IN PHOENIX, ARIZONA. DON'T MISS YOUR CHANCE TO GET THIS GREAT SET!
Closed Captions and Details

Audio Language: English

Subtitles: English, Spanish, French

Format: Widescreen

Region Code: Region 1 (Plays in the USA and Canada)

Disc Format: Regular DVD 

Condition: Brand New and Sealed

Yay!!!

I love my new additions to my dvd collection, Marvels Agents of S.H.I.E.L.D is awesome. I now own all sevenseasons
thanks to you for selling them to me. I am impressed with the high quality def. Thanks again.

Sincerely
Neil D. Raffanelli
NORCAL

Great condition

Received in a timely manner and they are in new condition. Would recommend buying from Blaze DVD's. I already did

Favorite Show

It's great! And they were taking this off Netflix. I need this show. Awaiting arrival!

Excellent!

First time I've used Blaze DVD's. Service was fast, efficient, DVDs ordered were in "new" condition. Will be using Blaze for future orders!

Marvel's Agents of S.H.I.E.L.D. DVD Seasons 1-6 Set

Liquid error (layout/theme line 538): Could not find asset snippets/salesbox-common.liquid