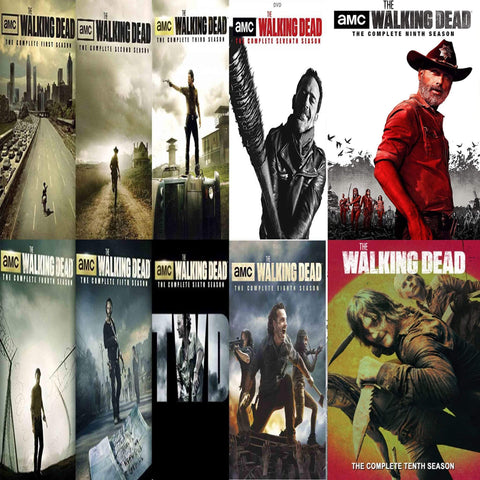 The Walking Dead TV Series Seasons 1-10 DVD Set
---
 INCLUDES EVERY EPISODE FROM ALL 10 SEASONS FOR ONLY $117.99!
This set is In Stock at our warehouse in Phoenix, Arizona. 
100% Satisfaction Guaranteed
120 Day Money Back Guarantee
This Set is Brand New and Still Sealed
 This set is Region 1 and will play in the USA and Canada
This set is in regular DVD format
Includes all 147 episodes from all 10 seasons on 46 discs
After the world is ravaged by a zombie apocalypse, a group of survivors, led by police officer Rick Grimes (Andrew Lincoln), find themselves traveling in search of a safe and secure home. As they struggle to fend off the zombie hordes, they soon find themselves being threatened by other survivor groups who are prepared to do whatever it takes to survive. Based on one of the most successful and popular comic books of all time, written by Robert Kirkman. Get Your Walking Dead Seasons 1-10 today!
THIS ITEM IS IN STOCK AND READY TO SHIP FROM OUR WAREHOUSE IN PHOENIX, ARIZONA. DON'T MISS YOUR CHANCE TO GET THIS GREAT SET!
Closed Captions and Details

Audio Language: English

Subtitles: English, Spanish

Format: Anamorphic Widescreen (No black bars on the top and bottom)

Region Code: Region 1 (Plays in the USA and Canada)

Disc Format: Regular DVD 

Condition: Brand New and Sealed

TWD Seasons 1-10

Received DVD's quickly, excellent quality, awesome communication with company. I would definitely order again from Blaze!

Great experience

Came quickly, great price & just what I was looking for a special gift. Wonderful communication with seller alsi

Excited

I just order the entire 1 thru 10 set I've gotten my daughter sets every season then she moved out to Mississippi so now I have to buy them for me can't wait to get them. Let you know when they arrive Iam so so excited. I will have a Walking dead trilogy in my home next month for my 50 th wedding anniversary. Lol

The Walking Dead TV Series Seasons 1-9 DVD Set

The Walking Dead Seasons 1-9 DVD Set

Wasn't really a fan at first, but it grew on me. Good price on the set.

Liquid error (layout/theme line 538): Could not find asset snippets/salesbox-common.liquid