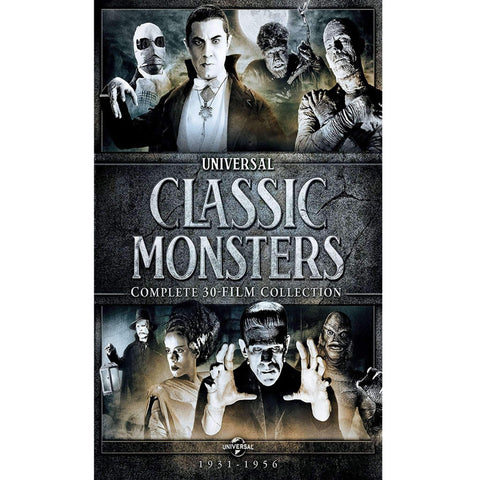 Universal Classic Monsters DVD Collection (Complete 30-Film Collection)
---
 INCLUDES ALL 30 MOVIES FOR ONLY $82.99!
This set is In Stock at our warehouse in Phoenix, Arizona. 
100% Satisfaction Guaranteed
120 Day Money Back Guarantee
This Set is Brand New and Still Sealed
 This set is Region 1 and will play in the USA and Canada
This set is in regular DVD format
The Universal's Classic Monsters DVD collection contains 30 of the classic horror films that you have come to know and love. The box set features some of the most iconic monsters in movie history. The collection includes all of the following movies:
Dracula (1931)
Frankenstein (1931)
The Mummy (1932)
The Invisible Man (1933)
The Bride of Frankenstein (1935)
Werewolf of London (1935)
Dracula's Daughter (1936)
Son of Frankenstein (1939)
The Invisible Man Returns (1940)
The Invisible Woman (1940)
The Mummy's Hand (1940)
The Wolf Man (1941)
The Ghost of Frankenstein (1942)
The Mummy's Ghost (1942)
The Mummy's Tomb (1942)
Invisible Agent (1942)
Phantom of the Opera (1943)
Frankenstein Meets the Wolf Man (1943)
Son of Dracula (1943)
House of Frankenstein (1944)
The Mummy's Curse (1944)
The Invisible Man's Revenge (1944)
House of Dracula (1945)
She-Wolf of London (1946)
Abbott and Costello Meet Frankenstein (1948)
Abbott and Costello Meet the Invisible Man (1951)
Creature from the Black Lagoon (1954)
Abbott and Costello Meet the Mummy (1955)
Revenge of the Creature (1955)
The Creature Walks Among Us (1956)
THIS ITEM IS IN STOCK AND READY TO SHIP FROM OUR WAREHOUSE IN PHOENIX, ARIZONA. DON'T MISS YOUR CHANCE TO GET THIS GREAT SET!
THE PHOTO BELOW IS FROM OUR WAREHOUSE AND OF THE ACTUAL ITEM WE WILL BE SHIPPING YOU!
Closed Captions and Details

Audio Language: English

Subtitles: English, French

Format: Anamorphic Widescreen (No black bars on the top/bottom)

Region Code: Region 1 (Plays in the USA and Canada)

Disc Format: Regular DVD 

Condition: Brand New and Sealed

Color: Black & White

classic horror movies universal monsters classic monsters universal monster movies classic monster movies horror monsters old monster movies universal classic monsters universal monsters collection universal horror movies 1930s horror movies universal studios horror monster collection classic horror monsters universal classic monsters collection monsters film series horror movie box sets horror movie collection dvd universal studios monster movies best universal monster movies classic movie collection universal studios horror movies universal monsters legacy collection classic horror movie monsters new universal monster movies universal horror films universal monsters dvd

Best ever

Frightening and worth owning !

I absolutely love this collection I'm only 42 yrs old and just as vibrant the next guy but I'm in love with the classic oldies but goodies I had to have the monster movie collection with out a doubt !!!!

Univerasal Classic Monsters

Very good quality,Great classic films,Have not been able to put this many classic films. Thanks for your DVDs I have in joyed them

Classic Monsters

It was purchased 4 a gift

Liquid error (layout/theme line 538): Could not find asset snippets/salesbox-common.liquid