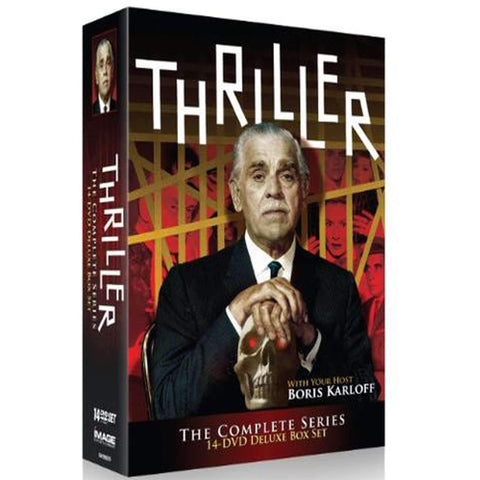 Thriller: The Complete Series (2010, 14-Disc Set) (DVD)
---
 INCLUDES EVERY EPISODE FROM THE ENTIRE SERIES FOR ONLY $52.99!
This set is In Stock at our warehouse in Phoenix, Arizona. 
100% Satisfaction Guaranteed
120 Day Money Back Guarantee
This Set is Brand New and Still Sealed
 This set is Region 1 and will play in the USA and Canada
This set is in regular DVD format
Includes all 67 episodes from all 2 seasons on 14 discs
Nine years before his death, screen icon Boris Karloff (Frankenstein) turned up for two seasons on NBC, as host of the horror anthology series Thriller (1960-62). The program, which strategically ran after the same network's Alfred Hitchcock Presents and therefore lassoed much of the same audience, bore a similar structure: individual playlets usually involved seemingly unremarkable characters dropped into the middle of terrifying situations. Thriller made fervent use of actors who, though little-known at the time, attained stardom in subsequent years - these including Leslie Nielsen, William Shatner, Mary Tyler Moore, Tom Poston and Cloris Leachman. Get your Thriller the complete series today!
THE PHOTO BELOW IS FROM OUR WAREHOUSE AND OF THE ACTUAL ITEM WE WILL BE SHIPPING YOU!
Closed Captions and Details
Audio Language: English

Subtitles: None

Format: Anamorphic Widescreen (No Black bars on the top or bottom)

Region Code: Region 1 (Plays in the USA and Canada)

Disc Format: Regular DVD 

Condition: Brand New and Sealed

Color: Black & White

Great Purchase

My order arrived in great condition and the DVD's play excellent. Thriller is an entertaining series, and I look forward to hours of enjoyment.

Thriller The Complete Series

Used to watch this series as a child, mid century. Purchased as a gift for a friend of mine, of the same vintage. He sent me a thank-you email immediately after receipt. A few days later he emailed again with a more emphatic expression of gratitude. He said it is in fact binge-worthy, and that is exactly what he had been doing. If you are yourself, or know someone who is, a fan of shows like, Alfred Hitchcock, The Twilight Zone, One Step Beyond and others in that genre, consider buying this set for yourself or as a gift. It is evidently even better than I anticipated.

Thriller: the complete series

Watching as I write this review. Love all the stories.

Satisfied customer

Great company to do business with. Placed order received confirmation and timely updates on order status. Had product from order to delivery in a week. Exceptional will order from this company again

Thriller - The Complete Series

My package arrive quickly. The box set itself was in perfect condition. I have not had a chance to watch any of them so I can't comment on the actual quality of the disc itself. Will definitely order from them again.

Liquid error (layout/theme line 538): Could not find asset snippets/salesbox-common.liquid