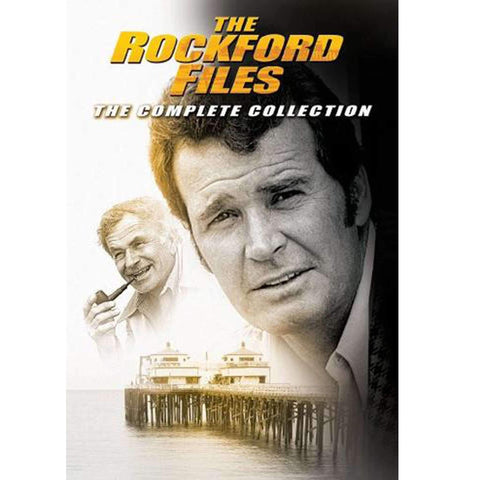 The Rockford Files DVD Complete Series Box Set
---
 INCLUDES EVERY EPISODE FROM THE ENTIRE SERIES FOR ONLY $77.99!
This set is In Stock at our warehouse in Phoenix, Arizona. 
100% Satisfaction Guaranteed
120 Day Money Back Guarantee
This Set is Brand New and Still Sealed
 This set is Region 1 and will play in the USA and Canada
This set is in regular DVD format
For only "two hundred dollars a day, plus expenses," the original and quintessential anti-hero detective, Jim Rockford, is on the case! Primetime Emmy Award winner James Garner stars as the ex-con-turned-private-investigator who stays under the radar and takes on the cases of the lost and the dispossessed, chasing down seemingly long-dead clues in the sunbaked streets and seamy alleys of Los Angeles. And now, all 120 episodes from its six seasons and all 8 television movies are together in this 34-disc anthology! Filled with wry humor, chilling suspense, and engaging cases, it's no mystery why The Rockford Files remains the most celebrated detective show of its time.
The 8 TV movies included with this series are titled: 
I Still Love L.A.

A Blessing in Disguise


If the Frame Fits

Godfather Knows Best

 Friends and Foul Play

Punishment and Crime

Murder and Misdemeanors


If It Bleeds, It Leads
THIS ITEM IS IN STOCK AND READY TO SHIP FROM OUR WAREHOUSE IN PHOENIX, ARIZONA. DON'T MISS YOUR CHANCE TO GET THIS GREAT SET!
THE PHOTO BELOW IS FROM OUR WAREHOUSE AND OF THE ACTUAL ITEM WE WILL BE SHIPPING YOU!
Closed Captions and Details

Audio Language: English

Subtitles: English, Spanish

Format: Anamorphic Widescreen (No Black bars on the top or bottom)

Region Code: Region 1 (Plays in the USA and Canada)

Disc Format: Regular DVD 

Condition: Brand New and Sealed

Color: All episodes are in color

The Rockford Files (Complete Series)

What a great series.
Wish I had purchased it sooner!

great service during holidays and great product.

Love this DVD set

I love this set. The service was great and set arrived on time.

Liquid error (layout/theme line 538): Could not find asset snippets/salesbox-common.liquid