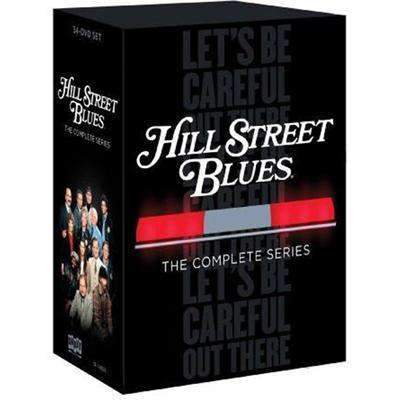 Hill Street Blues DVD Complete Series Box Set
---
 INCLUDES EVERY EPISODE FROM THE ENTIRE SERIES FOR ONLY $87.99
This set is In Stock at our warehouse in Phoenix, Arizona. 
100% Satisfaction Guaranteed
120 Day Money Back Guarantee
This Set is Brand New and Still Sealed
 This set is Region 1 and will play in the USA and Canada
This set is in regular DVD format
Includes all 146 episodes from all 7 seasons on 34 discs
The Hill Street Blues TV show is now available in this complete series box set! Enjoy all 146 episodes from all 7 seasons from the hit TV series. The show follows the lives of the staff of the police station located on Hill Street. The "blues" is a slang term used for the police officers. The show focuses on the bitter realities of urban living in the 1980's. Get your complete series box set today!
THIS ITEM IS IN STOCK AND READY TO SHIP FROM OUR WAREHOUSE IN PHOENIX, ARIZONA. DON'T MISS YOUR CHANCE FOR THIS GREAT SET!
THE PHOTO BELOW IS FROM OUR WAREHOUSE AND OF THE ACTUAL ITEM WE WILL BE SHIPPING YOU!
Closed Captions and Details

Audio Language: English

Subtitles: None

Format: Anamorphic Widescreen (No black bars on the top/bottom)

Region Code: Region 1 (Plays in the USA and Canada)

Disc Format: Regular DVD 

Condition: Brand New and Sealed

blues on the hill hill street blues on dvd hill street blues complete series hill street blues tv series hillside blues hill street blues dvd complete series hill street blues dvd box set hill street blues series hill street blues seasons hill street blues videos blue street blues high street blues hill street blues dvd complete set buy hill street blues complete series hill street blues complete tv series dvd hill street blues dvd set hill street blues box set hill street blues complete dvd box set 

Hill Street Blues

What a great series. So happy to now have the entire 7 year series in my possession. Will not have to watch any crappy current network TV for a long time!!!

hill street blues

a few dead spots on the dvd's but I'm enjoying them a lot

Liquid error (layout/theme line 538): Could not find asset snippets/salesbox-common.liquid