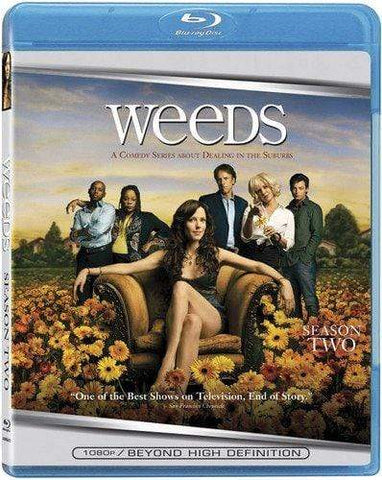 Weeds: Season 2 on Blu-Ray
---
IN STOCK NOW!
~100% Satisfaction Guaranteed!

~120 day Money Back Guarantee

~Every Item is Brand New and still sealed from the store

~All of our products ship direct from our warehouses in the USA!

~Blu-Rays are Region 1 and play in the US and Canada.
Product Description
Funnier, darker and more daring, the second season of this acclaimed Showtime series reaches a higher ground. Golden Globe winner Mary-Louise Parker stars as Nancy Botwin, the soccer mom who had to learn how to deal - pot, that is - after the death of her husband. Now, her business is a hit. But keeping up with the neighbors in this suburban utopia isn't easy. She's joined up with a few of her closest friends, and together they're facing life's highs and lows - because even in paradise, nobody's perfect. Don't miss WEEDS, an addictive comedy, the highest grade TV has to offer.
Amazon.com
The first season of Weeds ended with a shocker: Nancy (Mary-Louise Parker) found a dreamy new boyfriend, but he turned out to be a DEA agent (Martin Donovan). Luckily, she manages to find some pretty creative ways to "deal" with it. Despite that new obstacle, she decides it's also time to "grow" the business to higher levels, and all these risky moves lead up to another fabulous season finale cliff-hanger. Elsewhere in suburban utopia, comic relieving brother-in-law Andy (Justin Kirk) tries to dodge his army commitments by joining Rabbi school, while the hilarious Doug (Kevin Nealon) battles it out with Celia (Elizabeth Perkins) to maintain power over the Agrestic City Council. Plot aside, Season 2 of Weeds took this potentially great show to the next level. No matter how hard they tried in the first season, the show's makers had a heck of a time trying to shake the impression that they were mimicking the edginess of HBO's original programming. (Some might have gone as far as to say they were trying a little too hard.) This time around, the characters and the story have grown into their own skins, and they offer something much more authentic and convincing. The second season also starts a great new tradition: Malvina Reynolds "Little Boxes" is still the opening theme song, but it is performed by a different artist for each episode (from Elvis Costello to The Shins). Just one more thing to keep us "addicted." --Jordan Thompson

None.

Liquid error (layout/theme line 538): Could not find asset snippets/salesbox-common.liquid