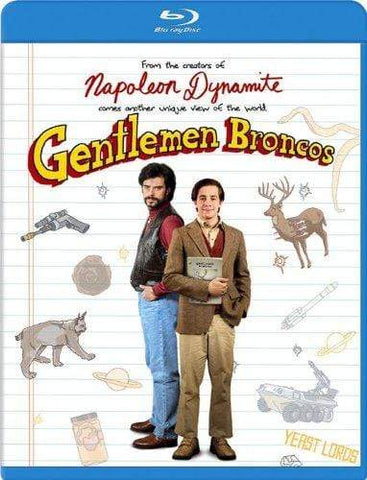 Gentlemen Broncos on Blu-Ray
---
IN STOCK NOW!
~100% Satisfaction Guaranteed!

~120 day Money Back Guarantee

~Every Item is Brand New and still sealed from the store

~All of our products ship direct from our warehouses in the USA!

~Blu-Rays are Region 1 and play in the US and Canada.
Product Description
Mount your battle stag, grab a popcorn ball and get ready to laugh your head off at Gentlemen Broncos! The director of Napoleon Dynamite (Jared Hess) and co-star of Flight of the Conchords (Jemaine Clement) team up to bring you the story of Benjamin Purvis (Michael Angarano), a lovable loner whose life is turned upside down when a pretentious fantasy author steals his story at a writers camp. Jennifer Coolidge (American Pie) and Mike White (School of Rock) join a hysterical cast of oddball characters in this.
Amazon.com
 

The folks behind Napoleon Dynamite proved themselves to be comedic quirk-masters, and Gentlemen Broncos fits right into Napoleon's moon boots. Michael Angarano stars as Benjamin, a self-conscious, home-schooled teen whose aspirations of being a science-fiction writer are played out Walter Mitty-style. His doting mother (Jennifer Coolidge) treats him to a weekend at a writing camp, where Benjamin meets his idol, sci-fi author Ronald Chevalier (Jermaine Clement, The Flight of the Conchords). Benjamin submits his "Yeast Lords" manuscript to Chevalier for the big-time writer's approval. But Chevalier is struggling for a hit book and he promptly plagiarizes Benjamin's work. Director Jared Hess cowrote Gentlemen Broncos with his wife, Jerusha Hess, and they do a fine job of capturing grimacingly painful, but funny trials of adolescence. The 'nad jokes and gross-out humor get a little stale, but the Hesses have assembled a brilliant, watchable cast. Angarano gives Benjamin a lovable, nerdy touch. Coolidge chalks up yet another comedic character role, complete with appliquéd sweatshirts and floral vests. Clement nearly steals every scene as the laughingly pompous sci-fi author Chevalier. Mike White turns in a fine performance as Dusty, Benjamin's mom-appointed guardian angel. Héctor Jiménez (Nacho Libre) and Halley Feiffer round out the cast as friends who want to help make Benjamin's "Yeast Lords" dream come true by filming an ultra-low-budget, amateur version of his story. As with Napoleon Dynamite, the cast's clothing is as funny as some of their lines. --Francine Ruley

None.

Liquid error (layout/theme line 538): Could not find asset snippets/salesbox-common.liquid