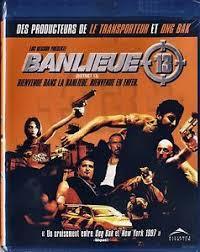 ---
IN STOCK NOW!
~100% Satisfaction Guaranteed!

~120 day Money Back Guarantee

~Every Item is Brand New and still sealed from the store

~All of our products ship direct from our warehouses in the USA!

~Blurays are Region 1 and play in the US and Canada.
Product Description
District B13: Paris, 2010. An isolation wall surrounds the ghetto cities of District B13. Within these walls, without effective law enforcement, gang rule is absolute. Damien is a member of an elite police squadron, highly trained in martial arts. He goes undercover to infiltrate a gang in order to defuse a neutron bomb and save District B13 from annihilation. Damien recruits the help of a criminal named Leito - whose only goal is to save his sister from the clutches of the same gang.
Amazon.com
For eye-popping kinetic thrills, District B13 tops the class. In the near future, the worst ghettos of Paris have been walled in and left to rot. When a neutron bomb gets stolen by a criminal kingpin in seedy District B13, Damien--a cop who specializes in deep cover assignments (Cyril Raffaelli, a stuntman turned actor)--has to team up with Leito (David Belle), who grew up in the district and has his own reason for going back: the kingpin kidnapped his sister (tough yet adorable gamine Dany Verissimo). The plot takes a few preposterous turns, but it's beside the point--every turn serves only to maintain the relentless flow of sheer physical prowess. Belle is one of the inventors of a sport called parkour, which treats a city's architecture like an obstacle course; while running from gun-toting thugs, Leito leaps, bounds, and scrambles up and down buildings with astonishing grace. The fight sequences are just as down-to-earth yet over-the-top as Damien whirls, kicks, and crunches through armies of bad guys. Just as important is the tongue-in-cheek tone that never turns smirky; the movie doesn't take itself seriously, but doesn't mock itself or its basic cinematic pleasures. Anyone looking for a break from the overbearing CGI and self-important pomp of Hollywood action movies should watch District B13. --Bret Fetzer

None.

Liquid error (layout/theme line 538): Could not find asset snippets/salesbox-common.liquid