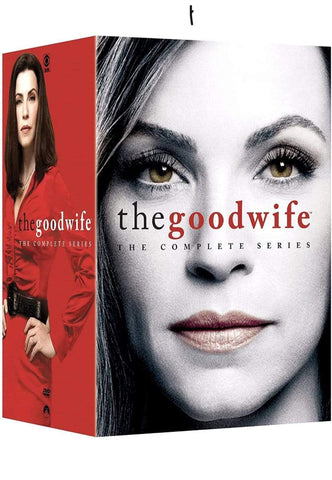 The Good Wife TV Series Seasons 1-7 DVD Set
---
 INCLUDES EVERY EPISODE FROM ALL 7 SEASONS FOR ONLY $77.99!
This set is In Stock at our warehouse in Phoenix, Arizona. 
100% Satisfaction Guaranteed
120 Day Money Back Guarantee
This Set is Brand New and Still Sealed
 This set is Region 1 and will play in the USA and Canada
This set is in regular DVD format
Includes all 156 episodes from all 7 seasons on 42 discs
The Good Wife TV series aired on CBS from 2009 until 2016. The show ran for a total of 7 seasons. The series follows Alicia Florrick, played by Julianna Margulies, whose husband has been put in jail after political corruption and sex scandal. Alicia must return to the work force to provide for her 2 children while her husband is in jail. She returns to her previous career in law as a litigator. 
THIS ITEM IS IN STOCK AND READY TO SHIP FROM OUR WAREHOUSE IN PHOENIX, ARIZONA. DON'T MISS YOUR CHANCE FOR THIS GREAT SET!
Closed Captions and Details

Audio Language: English

Subtitles: English, Portuguese 

Format: Anamorphic Widescreen (No black bars on the top and bottom)

Region Code: Region 1 (Plays in the USA and Canada)

Disc Format: Regular DVD 

Condition: Brand New and Sealed

the good wife imdb the good wife seasons the good wife tv show cbs the good wife the good housewife the good wife series the good wife show the good wife tv series the good wife tv the good wife on dvd the good wife complete series the good wife dvd box set good wife video abc the good wife the good wife set the good wife box set the good wife dvd collection the good wife dvd set good wife dvd box set buy the good wife dvd the good wife complete box set the good wife series dvd buy the good wife the good wife complete series dvd the good wife all seasons

Awesome service

We received the DVD set in a few days. Blaze had the best pricing, and the ordering process was very easy.

the good wife 7 seasons

ok as expected. like the idea that this is a smaller company than amazon or ebay or walmat

Great show!! Surprised to find out Ridley Scott was an Executive Producer

Liquid error (layout/theme line 538): Could not find asset snippets/salesbox-common.liquid