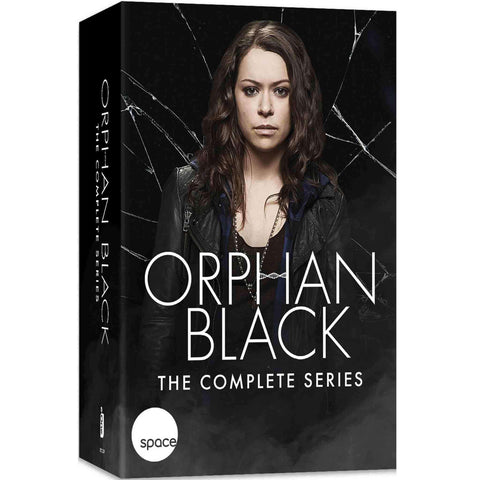 Orphan Black TV Series Complete DVD Box Set
---
 INCLUDES EVERY EPISODE FROM THE ENTIRE SERIES FOR ONLY $44.99
This set is In Stock at our warehouse in Phoenix, Arizona. 
100% Satisfaction Guaranteed
120 Day Money Back Guarantee
This Box Set is Brand New and Still Sealed
 This set is Region 1 and will play in the USA and Canada
This set is in regular DVD format
Includes all 50 episodes from all 5 seasons on 15 discs
The Orphan Black TV series follows Sarah Manning who assumes the identity of Beth Childs when she witnesses her commit suicide. Sarah looks almost exactly like Beth so she embarks on a journey only to discover that she is one of many clones spread throughout North America. Sarah learns that the people who were responsible for the clones are trying to kill her and all of her sister clones. This complete series box set can be yours today!
THIS ITEM IS IN STOCK AND READY TO SHIP FROM OUR WAREHOUSE IN PHOENIX, ARIZONA. DON'T MISS YOUR CHANCE TO GET THIS GREAT SET!
THE PHOTO BELOW IS FROM OUR WAREHOUSE AND OF THE ACTUAL ITEM WE WILL BE SHIPPING YOU!
Closed Captions and Details

Audio Language: English

Subtitles: English

Format: Anamorphic Widescreen (No Black Bars on the Top or Bottom)

Region Code: Region 1 (Plays in the USA and Canada)

Disc Format: Regular DVD 

Condition: Brand New and Sealed

bbc orphan black orphan black new season orphan black final season orphan black seasons clone tv show what is orphan black about orphan black tv show how many seasons of orphan black are there orphan black series what is orphan black the orphan black orphan black on dvd orphan black tv orphan black tv series ophelia black orphan black show new orphan black orphan dvd orphan black dvd box set orphan black box set bbc show black orphan orphan black all seasons orphan black serie buy orphan black buy orphan black dvd orphan black new orphan black video orphan black for sale black orphan dvd 

Would purchase with them again

I ordered and received the complete dvd collection of Orphan Black seasons 1 through 5 . The series is great and the dvd collection contains many extra interviews as well as bloopers, and deleted scenes . Subtitles are also available for hard of hearing . The Delivery was fast and all the dvds were in excellent condition .

Feedback

Good service and fast delivery

Orphan Black seasons 1-4

The DVD's arrived quickly! I am now catching up on season 2....

Easy purchase

This was a quick and easy purchase. We received it sooner then expected too! Definitely will buy from them again

Liquid error (layout/theme line 538): Could not find asset snippets/salesbox-common.liquid