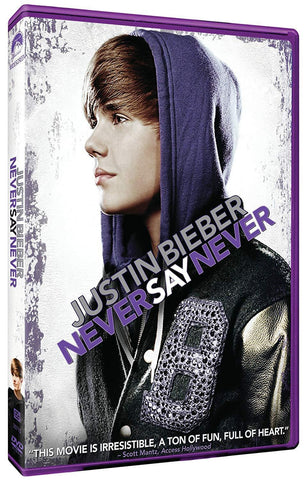 Justin Bieber: Never Say Never
---
IN STOCK NOW!
~100% Satisfaction Guaranteed!

~120 day Money Back Guarantee

~Every Item is Brand New and still sealed from the store

~All of our products ship direct from our warehouses in the USA!

~DVDs are Region 1 and play in the US and Canada.
Product Description
Justin Bieber: Never Say Never is the inspiring, entertaining and intimate look at the life and meteoric rise of pop phenomenon Justin Bieber. From small town boy to global super-star, Never Say Never follows Justin Bieber's journey from his early years, to his rise from break-out internet sensation to global super-star, culminating with a sold-out show at the famed Madison Square Garden. More than just a concert, Never Say Never is a captivating, cinematic event featuring all-star musical talent including, Usher, Jaden Smith, Ludacris, and more!
Amazon.com
Never underestimate the power of perseverance, social media, good hair, and a winning smile. Small town boy Justin Bieber is a young musician (16 years old at the time of this film's release) who started out goofing around on the drums at home as a young child and posting videos on You Tube as a preteen. With the help of producer Scooter Braun, he has rocketed to the status of pop phenomenon, performing for a sold-out house at the coveted Madison Square Garden in less than two years. Part documentary, part concert video, Justin Bieber: Never Say Never combines archival home videos with live concert footage; interviews with everyone from Justin's young single mother and his grandparents to his vocal coach "Mama Jan" Smith, pop icon and actor Usher, and producer Braun; and way too much footage of squealing, overwrought preteen female fans (the latter will likely cause one's eyes to spontaneously roll back in one's head and trigger a gag reflex unless one happens to be a 10- to 12-year-old girl). Showcased are Bieber's early visits to every radio station imaginable; his life backstage, on the road, and during a rare visit with his friends back home; the determination of those around him to keep his life as normal as possible; and lots of up-close footage of his concerts. Throughout the 10 days preceding his Garden debut, guest artists like Miley Cyrus, Usher, Jaden Smith, and Boyz II Men join Bieber onstage for collaborative performances of songs including "Overboard," "Somebody to Love," "Never Say Never," and "U Smile." Bieber also deals with the stress and pain of a throat infection that causes him to cancel his first show ever and threatens to prevent him from honoring his performance date at the Garden. Finally, the day of the Madison Square Garden performance arrives and viewers are treated to a great sampling of Bieber's powerful performance. The film does a good job of chronicling Bieber's rise to stardom, but let's face it, his career has spanned less than two years as of this film, so there's not really all that much to say in a movie that lasts almost two hours. But even if you're not a rabid Justin Bieber fan, you have to admit the kid has talent and you've got to respect his incredible journey. (Ages 9 - 13) --Tami Horiuchi

- Concert Dance Off – Justin and his crew show off their amazing moves- Favorite Girl – Full-length concert performance from the Director's Fan Cut- R.I.P. Hair Flip – Justin says goodbye to his signature 'do - Giving Back – Justin's team suprise lucky fans with concert tickets!

Liquid error (layout/theme line 538): Could not find asset snippets/salesbox-common.liquid